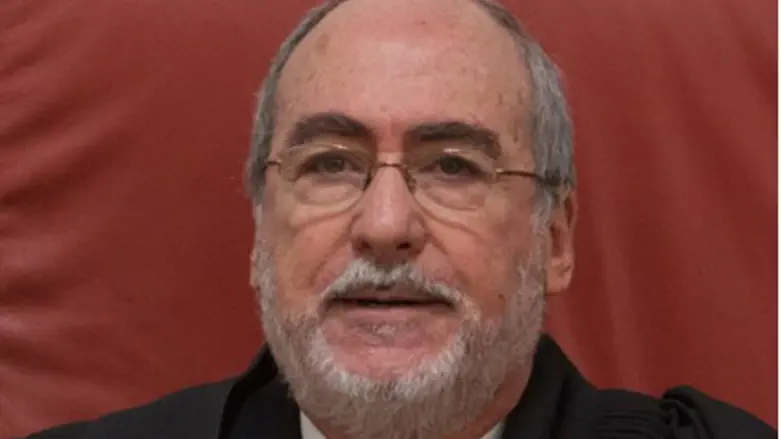 Justice Asher Grunis
Flash 90
The Absentee Property Law, which allows the state to confiscate property that has been abandoned by its former owners, applies in Arab neighborhoods of Jerusalem – but High Court Chief Justice Emeritus Asher Grunis recommended Wednesday that it not be enacted, as the court decided a long-standing case that allowed the state to confiscate property of Arabs who live in Palestinian Authority-controlled areas of Judea and Samaria who abandoned property in Jerusalem.
The law was first enacted in 1950 after the great population transfer the state experienced in its early days, as Arabs Israel fled at the instruction of the seven Arab armies who prepared to "throw the Jews into the sea" in the 1948 War of Liberation. Israel emerged victorious in that war, but Arab states, in the hope that the nascent state would be crushed under the weight of millions of refugees, deported most of their Jews within the space of just a few years.
With Arabs abandoning their property as they stood aside for the slaughter of the Jews, and Jews from Arab countries thrown out of their ancestral homes penniless, the Knesset enacted the Absentee Property Law in order to house all the new Jewish refugees.
As such, said Grunis, explaining the Court's decision, the justices were reluctant to strike the law down, since it preceded Israel's Basic Laws, some of which might contradict the tenets of the Absentee Property Law. And there could be no doubt that the law applied to all of Jerusalem, which is Israel's capital and under the full administrative and legal control of Israel.
With that, he said, the law should be enacted – i.e., the state should confiscate land in Jerusalem belonging PA Arabs – only under "extreme" conditions, and only with the permission of the State Comptroller.
He also urged the Knesset to consider revising it, because in its current form, the law could lead to "absurd" situations. For example, he said, an Israeli who moved from Tel Aviv to Ariel – which is legally under the jurisdiction of the IDF, because it is in Judea and Samaria and not within the 1948 armistice lines – could be confiscated by the state, which could declare the Tel Aviv property "abandoned" if the Ariel resident was away for ten years or more.
"The authorities should avoid wherever possible to use the law," Grunis said. "With that, I do not see any reason to strike down the law and impede its use under all circumstances. In our opinion there may be rare situations where the law will be enacted on property in Jerusalem that had been owned by Arabs living in Judea and Samaria. Under those circumstances, the government would need to get the permission of the Attorney General before acting." High Court chief justice Miriam Naor said that she could not imagine what those circumstances might be, but she would defer to Grunis's opinion and not move to strike down the law.