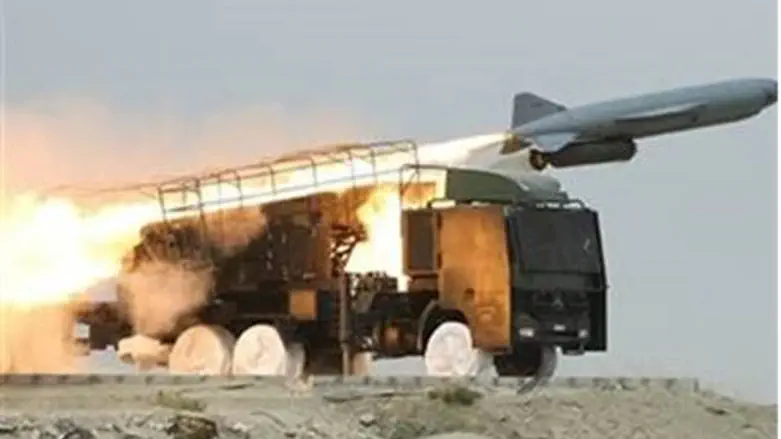 Iran's Revolutionary Guards fire a Saegheh missile (illustration
Reuters
The S-300 sale by Russia took months, if not years, of lobbying by the Israeli government to undercut. It took a careful track of diplomacy led by Avigdor Liberman's faith in a better Israeli -Russian relationship that finally got Russia to turn away from the sale. In what seems like the diplomatic blink of an eye, Russia has wantonly interpreted the recent framework agreement as a license to restore blocked weapons exports to Iran.
Avigdor Liberman said last year, "Maintenance of good relations with Russia is a priority moment for Israel and its principal stance."
"We simply cannot afford neglecting warm relations with such significant international player as Russia."
The latter statement by Liberman has been the prevailing view for some time. But the former quote might be under attack in the wake of the Russian announcement. The Israeli government has been uncharacteristically angry with Moscow.
"At a time when Iran denies clause after clause of the agreement declared last week, the international community has already begun easing its sanctions," Intelligence Minister Yuval Steinitz said in a statement yesterday.
According to some, it is time Israel stop taking Russia's moves lightly.
"In my opinion, Israel has been over-supportive of Russia," says Azriel Bermant of the Institute for National Security Studies (INSS). "Having said that, it would not be a good idea to sell weapons to Ukraine."
Last year, the Ukrainian government approached Israel and reportedly was interested in buying unmanned aerial vehicles (UAVs). Israel initially agreed to sell, but was forced to pull back. The reason was simple in Israeli calculus – Israel did not want to antagonize Russia. Russia is currently, for all intents and purposes, at war with Ukraine. Officially, Russia has annexed Crimea. Unofficially, most observers believe Russia is logistically supporting Ukrainian rebels in the Russian-speaking eastern third of the country.
Writing last year in an editorial on Israeli-Russian relations, Bermant stated "Israel will want to ensure Russia does not change its mind" regarding its sale of S-300 missiles. Now that Russia has broken its agreement with Israel, Bermant said yesterday on Twitter "Russia's planned sale of S-300 missile system to Iran underscores that it is not a reliable ally for Israel."
Arutz Sheva asked Bermant if this meant that Israel should in turn pursue the UAV deal (among other things) with Ukraine. After all, Ukraine expressed interest a month after the nixed sale that it would still like to make a deal in the future. Bermant answered he did not think it would be wise.
"No. I think it would antagonize the Russians, and make matters worse. They would go ahead with it anyway."
Instead, Bermant suggests, Israel can take off the gloves in the diplomatic forum.
"However, if and when there is another vote at the UN over Russian actions in Ukraine," says Bermant, "Israel should this time line up with the US and support a resolution of condemnation, rather than staying away."
Russia has a number of interests with Iran, namely financial. To some extent, they are also trying to open up new ventures in light of sanctions from Europe. Even Israel has considered expanding its business ties in Russia as European Union policy on settlements and their threats of sanctions are increasingly alienating for Israeli commerce.
"The idea of creating channels for bilateral relations includes  Iran, but sanctions might force Moscow to diversify the countries with which it is involved, particularly in places like the Middle East," said Olena Bagno-Moldavsky of the Institute of National Security Studies last month in an interview with Arutz Sheva.
In fact, it might be isolation of Russia in Europe that have led it to so brazenly undermine whatever semblance of a deal there might be between the West and Europe.
"Their international standing as of now would not let it be an active partner in negotiations with Iran," she said at the time.
Bermant said last year that Russia's continued business-as-usual approach with Iran would "undermine the efforts to pressure Tehran into stopping its uranium enrichment work, while enabling Iran to evade the sanctions."
Ultimately, it is the cynicism of the relationship with Russia and the cynical nature of Moscow itself that is demonstrative of a new approach. As Bermant tweeted earlier today:
"The same Putin who denounces US missile defense plans as a threat to Russia now claims that S-300 sale to Iran poses no threat to Israel."