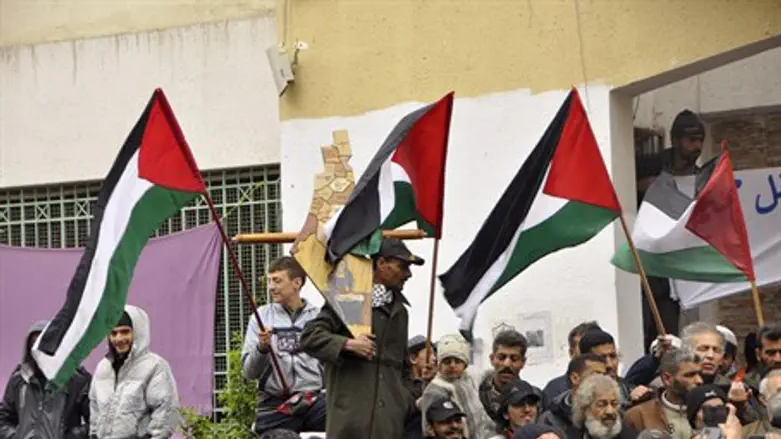 Residents of Yarmouk wave PLO flags
Reuters
Jihadists from the Islamic State group (ISIS) have lost ground to Palestinian fighters in Syria's Yarmouk camp, Palestinian officials and a resident said on Tuesday.
ISIS fighters have retreated from much of the territory they seized in the camp in southern Damascus after entering it on April 1, a resident using the pseudonym Samer told AFP.  
"We haven't even seen any Daesh members in over three days," he said, using the Arabic acronym for ISIS.
The withdrawal was confirmed by an official from a pro-Syrian regime Palestinian faction fighting against ISIS inside the camp.  
"There are intermittent but ongoing clashes between Palestinian factions and IS," said Khaled Abdel Majid, head of the Palestinian Popular Struggle Front, claiming that ISIS had withdrawn from most of the neighborhoods it previously controlled.
ISIS fighters were now confined largely to the southwest of the camp, with Palestinian factions - both pro- and anti-Syrian regime - controlling most of the east and north of the camp, Palestinian sources said.
Syrian regime forces are stationed outside the camp and have maintained a tight siege around it, but Abdel Majid said the Palestinian factions had established a "joint operations room" with government forces.
A Syrian security source in Damascus also said "the Palestinian factions have made progress and were able to recapture key points... and the operation is ongoing."
The Palestinian forces inside the camp include the Hamas-linked Aknaf Beit al-Maqdis group that is opposed to the regime and has fought alongside Syrian rebels.
Fighters from the Palestinian Fatah and Democratic Front for the Liberation of Palestine groups are not participating, Palestinian officials said.  
Both groups have said they want Yarmouk to remain neutral and do not want to be seen as taking a side in the conflict between Syria's government and opposition forces.
ISIS's advance rattled residents and the Syrian government, with the country's reconciliation minister saying a military operation would be necessary to expel the jihadists.
The extremist group's entrance into Yarmouk plunged the district into further hardship, exacerbating already-dire conditions caused by a government siege lasting more than 18 months.  
Once home to some 160,000 Palestinian and some Syrian residents, Yarmouk's population had shrunk to just 18,000 by the time ISIS entered the camp.  
According to Palestinian sources, some 2,500 civilians have managed to escape the camp, but aid agencies and the United Nations have warned of a serious humanitarian crisis and urged all parties to allow the creation of a humanitarian corridor.