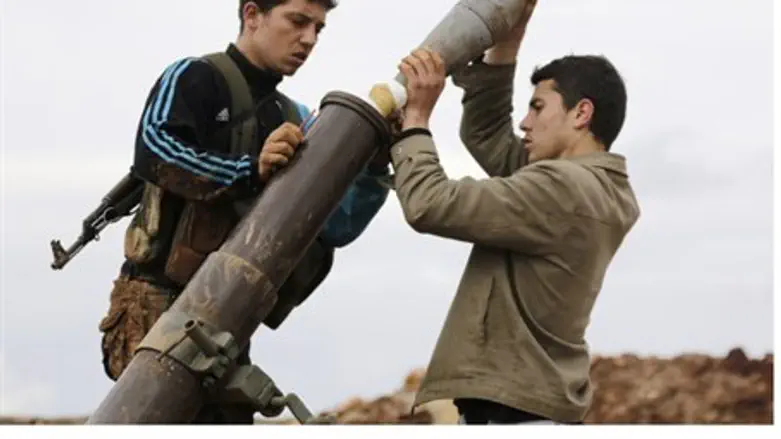 Al Nusra Front fighters
Reuters
Al-Qaeda's Syrian affiliate led a fierce assault on an intelligence base in Aleppo city Monday night after regime attacks on civilian infrastructure in the city forced rebels to shut schools, according to AFP.
Along with other Islamist terrorists, the Al-Nusra Front set off a large tunnel explosion near the air force intelligence headquarters in the west of the northern city.
Rami Abdel Rahman, head of the Britain-based Syrian Observatory for Human Rights, said the "huge blast" was followed by "intense clashes" as the rebels tried to storm the base.
He said government forces had been able to prevent the rebels from entering the headquarters, but that the fighting was ongoing.
A Syrian security official confirmed to AFP that there had been an explosion in a tunnel near the base, but said that regime forces had "blocked the assault, and that all was quiet now."
A witness living in regime-controlled areas of Aleppo city said he heard a "huge boom" followed by sounds of gunfire.
There were no immediate reports of casualties.
Abdel Rahman said the terrorists fired mortar rounds at government forces after the blast, and the loyalists retaliated while regime aircraft pounded rebel positions.
Just over a month ago, dozens of people were killed when Al-Nusra and other rebel groups used similar tactics to attack the same intelligence headquarters, first detonating a tunnel explosion and then attacking regime forces.
Setting off explosives at the end of tunnels dug into government-controlled areas has become a favored tactic of Syria's rebels, especially in Aleppo.