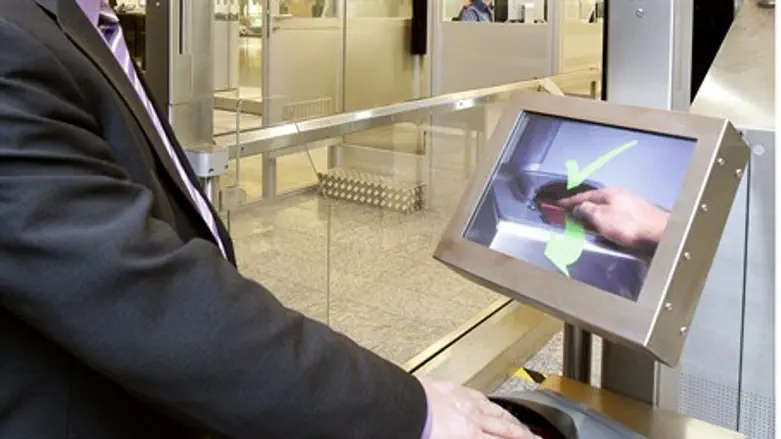 Biometric database in action
Flash90
Israel is one step closer to a national biometric identification system Monday, after outgoing Interior Minister Gilad Erdan announced that he would be advancing legislation to make a nationwide - and mandatory - switch to the system. 
The Biometric Database Law mandating collection of fingerprints and facial contours from all Israeli residents - and integrated in domestic ID cards and national passports - was actually passed by the Knesset in December 2009.
The same law mandated creation of a biometric government database of that information, to be used for management of access control, identification of individuals and to assist in locating individuals suspected of criminal activity by the law enforcement officials.
The law was passed in part to prevent identity theft and the loss, theft and destruction of the flimsy blue ID cards issued by the Interior Ministry, which had spiraled out of control in the decade prior to 2007. It was later revealed that more than half of those requesting new documents had a criminal background.
Erdan submitted a report to the Prime Minister's Office (PMO) and to the Knesset Chairman emphasizing the importance of finally implementing the system and adding that the switchover would be gradual. 
"Smart biometric records that cannot be faked [...] will lead to the full protection of the identity of Israeli citizens," Erdan said, according to Channel 10. "It will provide a balance between our duty to ensure the security of citizens and our duty to protect their privacy. We will promote a gradual transition to mandatory biometric documentation."
Since the first phase offering a switch to biometric identification on a volunteer basis was implemented in June 2013, some 640,000 people have entered the biometric database, he added.