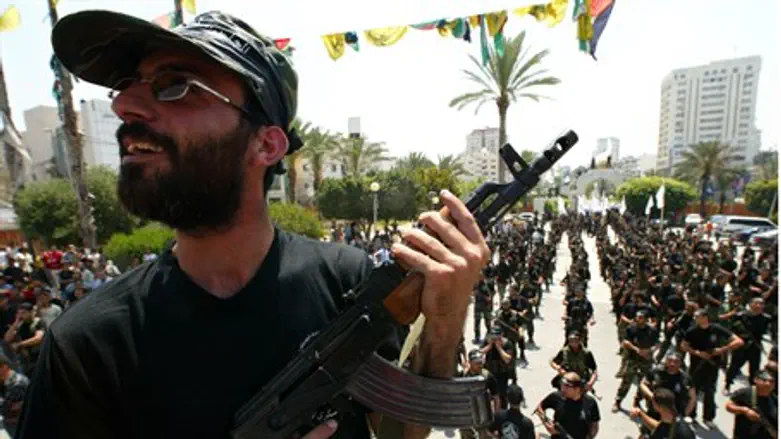 Fatah Al-Aqsa Martyrs' Brigades (file)
Flash 90
The internal tension in the Arab cities of Shechem (Nablus) and Jenin in Samaria has long been growing and threatening to boil over, as the Palestinian Authority's (PA) leading Fatah faction and its security apparatus clash.
The two cities, which are under full control of the PA as per the 1993 Oslo Accords, in recent days became the scenes of violence between Fatah's "military wing" the Al-Aqsa Martyrs' Brigade, and the PA Security Forces.
An exchange of gunfire was reported last Friday at Jenin between armed men, apparently from Fatah, and members of the PA Security Forces who were dispatched to the central intersections of the city.
In recent months gun battles have become frequent in Jenin, and in one particularly serious incident a massive hail of bullets was showered on the PA Security Forces headquarters.
And then on Saturday in the Balata "refugee camp" in Shechem the car of Fayiz Arafat, a leading Fatah activists, was set on fire.
Just several days earlier gunshots were fired at the same activist, indicating that he has become a clear target.
Sources in the "camp" neighborhood accuse the PA Security Forces of being indirectly involved in the attempts on Arafat's life, and of escalating the internal struggles to try and take control of Balata.
Aside from the conflict within its own forces, the PA faces threats from its "unity partner" in Gaza - last summer Hamas launched a coup attempt against the PA in Judea and Samaria that was thwarted by Israel.
Islamic State (ISIS) has also been operating in PA-controlled areas, with one of its cells being busted in Hevron in January and many terrorists switching from Hamas and other groups to ISIS. The group has been in a state of friction with Hamas and the PA, and indicated it aims to depose them.