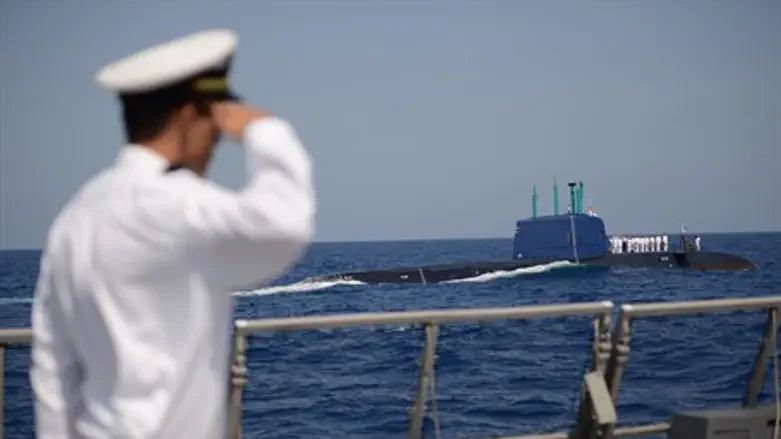 INS Tanin
Flash 90
Germany has approved the delivery of the fifth of six promised submarines to Israel – amid claims that the sub will be outfitted with nuclear weapons. Is this part of Israel's answer to the US nuclear agreement with Iran?
The German Federal Security Council, which monitors Germany's export of military goods, has given the green light for the delivery of another submarine to Israel. The news has renewed claims that Israel will fit the sub with one or more nuclear-tipped cruise missiles.
The six submarines ordered by Israel several years ago have been and are being built by the German shipyard HDW in Kiel. Four submarines have already been delivered to Israel; the last one, the INS Tanin, was handed over to Israel last September. Vice Admiral Ram Rotberg said at the time that it "can dive deeper, go farther for a longer time and can operate at a level we have not seen until today."
The fifth submarine, and the latest to be approved, will be the INS Rahav. A sixth one is to be delivered by 2017, and Israel has even been reported to be interested in ordering three more. 
Germany's Spiegel news outlet has often reported that by supplying Israel with the submarines, Germany is actually "helping Israel develop its military nuclear capabilities." Spiegel has quoted former Israeli Defense Minister Ehud Barak as saying that Germans should be "proud" that they have secured the existence of the state of Israel "for many years."
The submarine missiles can be launched using a previously secret hydraulic ejection system.
Coincidentally or not, controversial Egyptian TV presenter Tawfik Okasha called on Prime Minister Binyamin Netanyahu over the weekend to bomb Iran – and promised Egyptian support for "our dear friend Netanyahu," 
Okasha said. "Please, Iran faces you and the Bushehr reactor faces you. Put your trust in Allah and bomb it. We are with you. And if you need fuel for the jets, we will give it to you."