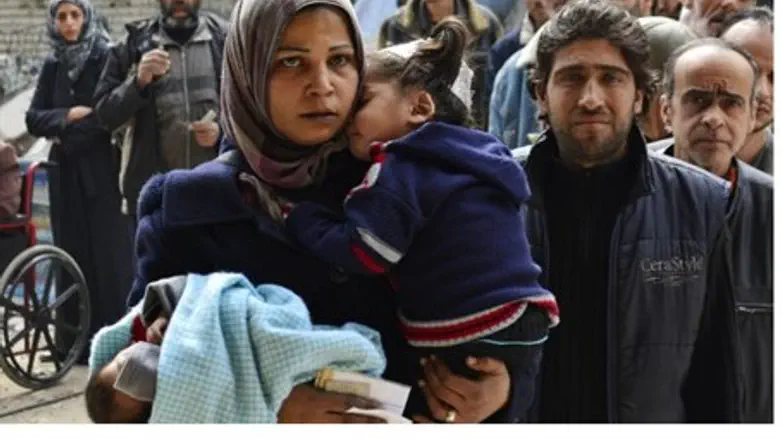 Inside Yarmouk (file)
Reuters
A UN agency chief said Sunday he was deeply concerned for civilians stuck in a Damascus neighborhood after it was stormed by the jihadist Islamic State terrorist group, also known as ISIS.
"We remain very worried for refugees and civilians inside Yarmouk," Pierre Krahenbuhl, who heads the UN Relief and Works Agency (UNRWA), said in Damascus.
"We are very determined to provide assistance to those who have decided temporarily to leave the camp and find shelter elsewhere," he added.
On April 1, ISIS launched an assault on Yarmouk, a neighborhood designated as a "Palestinian refugee camp", which was once a home to 160,000 Palestinian and Syrian Arabs but now has fewer than 18,000 residents.
The camp has seen violent clashes between pro-regime and opposition forces since 2012, and has endured a suffocating army siege since 2013.
Krahenbuhl spoke while visiting a school in the southern Damascus neighborhood of Tadamon, where displaced Palestinians from Yarmouk have sought refuge.
"It was of utmost importance for me to meet these people face to face, as an act of solidarity and support. Every conflict has a human face," he said.
"The people of Syria's merciless conflict are individuals, each with a dignity and destiny that must be respected and nurtured. The world community cannot abandon them in their hour of need," he added.
Krahenbuhl said UNRWA was "determined" to bring aid to Palestinians who have fled to Yalda and Babila, two neighborhoods on the outskirts of Yarmouk.  
Since the "dramatic changes" brought about by the IS assault on Yarmuk, "the focus is on how to provide assistance for people inside," he said.
"We are also thinking about how we can we improve the ability for people who wish to leave temporarily to come out safely and to receive assistance."  
More than 200 people have been killed since the beginning of the government's siege on Yarmouk, including dozens who died of hunger.
The Yarmouk "refugee camp" is in fact a sprawling neighborhood at the southern edge of Damascus. Most of the Palestinians who live there are descendants of Arab refugees from Israel's War of Independence, though few are themselves refugees. Uniquely, the UN founded UNRWA as a separate agency to its official refugee agency UNHCR in order to perpetuate "Palestinian refugee" status to all descendants of actual Palestinian Arab refugees.
No other group of refugees - including Jewish refugees from Arab states or from the Arab armies which occupied Judea, Samaria and Gaza in 1948 and expelled Jewish residents - are granted such hereditary refugee status.
rahenbuhl arrived in Damascus on Saturday on an "urgent mission" to discuss aid to civilians fleeing the violence in Yarmouk.
The UN's deputy special envoy to Syria Ramzy Ezzeldin Ramzy was also in Damascus on Sunday to discuss the Yarmouk crisis, a UN spokeswoman said.
Khawla Matar, head of UN envoy Staffan de Mistura's office, said Ramzy met Syria's deputy foreign minister, Faisal Meqdad, and spoke to the heads of several Palestinian factions and diplomats.
UNRWA's Krahenbul was also due to meet Syrian government representatives and Ramzy.
Syria's regime has said a military operation would be necessary to push ISIS out of Yarmouk.  
But UNRWA said Krahenbuhl's visit sought to find "peaceful approaches to addressing the humanitarian consequences of the situation".
The UNRWA chief called for "clear respect for civilians inside Yarmouk" and for a safe passage that would allow them to seek aid outside of the camp.  
According to Palestinian sources, some 2,500 civilians from Yarmouk have taken refuge in Damascus schools.