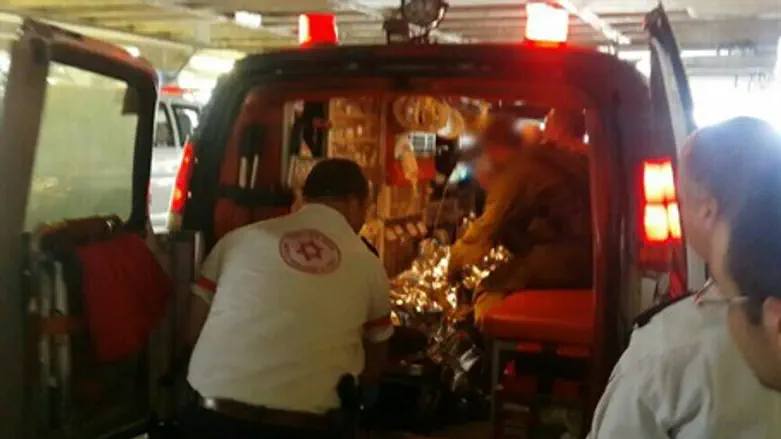 Soldier en route to Shaare Zedek
Magen David Adom
Overnight into Thursday, there was a significant improvement in the medical condition of the IDF soldier stabbed by a terrorist in Binyamin on Wednesday morning. 
A resident of Sinjil, the terrorist, named as Mohammed Jassem Karakra, approached soldiers guarding a nearby intersection, and began attacking them with a knife.
He stabbed one in the back and then another in the neck, before being shot dead by the first soldier. 
The soldier stabbed in the neck, 20, was given medical aid by Magen David Adom paramedics on the scene, before being evacuated in critical condition to Shaare Zedek Medical Center in Jerusalem. He was sedated and put on a respirator. 
The soldier's friend, Tomer Lan, who shot and killed and the terrorist, sustained minor injuries in the attack and was also brought to the hospital in Jerusalem. 
Shaare Zedek reported the news of the unnamed soldier's updated condition. On Thursday morning, doctors woke the soldier and began to take him off the ventilator. He was awake and communicative. 
His condition has been defined as moderate, but he is still hospitalized in the intensive care unit.