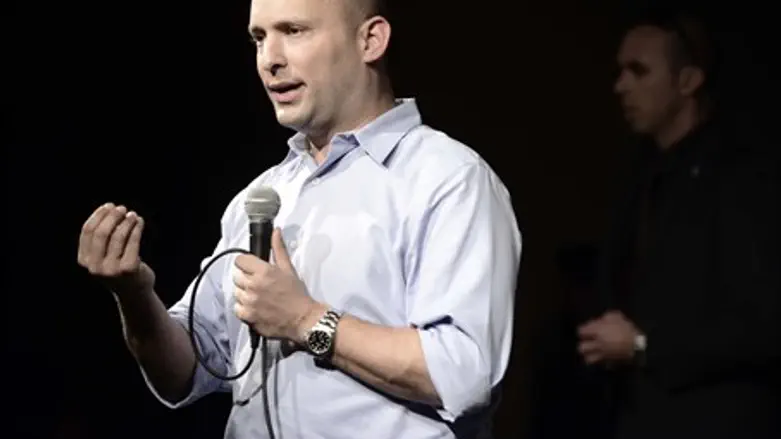 Jewish Home party leader Naftali Bennett
Tomer Neuberg/Flash 90
Likud officials have long been threatening to establish a government without Jewish Home, and a Jewish Home source said Prime Minister Binyamin Netanyahu looks likely to set up a government with Likud's "natural allies" - not including Jewish Home.
According to the source, Likud has tied up coalition deals with Shas and United Torah Judaism, and is at an advanced stage of negotiations with Moshe Kahlon's Kulanu party. But so far, Netanyahu has not made a serious offer to party chair Naftali Bennett.
Channel Two on Wednesday quoted Likud sources as saying that Jewish Home's demands were "excessive." According to the report, the party has been demanding the Foreign Ministry, although it "only has eight seats and is in no position to make such demands."
It should be noted, however, that sources in the Likud have said that current Foreign Minister Avigdor Liberman of Yisrael Beytenu – which received only six seats in the election – was likely to retain that spot.
"If it's good enough for Liberman with six seats, it's good enough for us,"a Jewish Home source said of the Foreign Ministry. "Religious Zionists are no longer willing to be suckers. Netanyahu has been 'threatening us' that he can sit in a government with Labor, but so far we have not received any offers."
Speaking last week, Bennett expressed his disappointment and frustration with the coalition negotiation process, telling party members  Netanyahu was "giving us the runaround" in the talks. "
"Netanyahu thinks we are suckers and that he can push us around," Bennett told party activists at an event Wednesday night. "He thinks that we are 'in his pocket,' that he can do whatever he wants to us. All the other parties are already set in his 'registry' and know what their role is going to be, except for us."