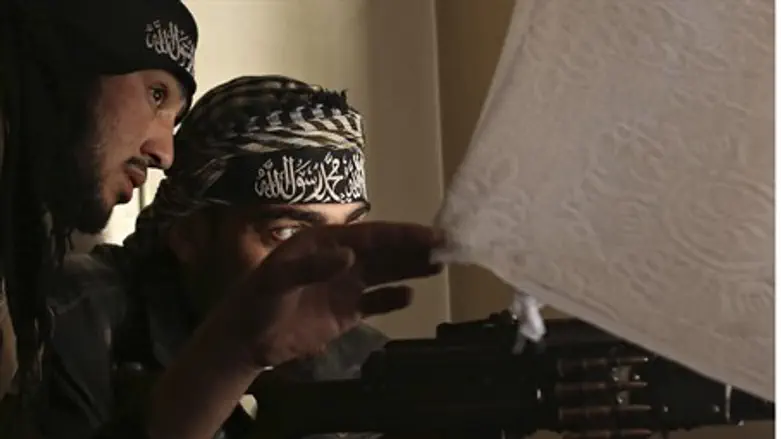 Islamist rebels in Syria (file)
Reuters
Nearly half of European jihadists known to have traveled to territory held by the extremist Islamic State group are French, a report by the country's upper house Senate revealed Wednesday.
Just over 1,430 French people have made their way to Iraq and Syria, representing 47 percent of jihadists from Europe that are known and accounted for, Senator Jean-Pierre Sueur, who spearheaded a parliamentary probe into jihadist networks, told AFP reporters.
According to Sueur, French domestic intelligence services are currently monitoring more than 3,000 people suspected of being involved in one way or another in Syrian networks - a 24-percent increase since November last year.
Some 85 French nationals are thought to have died in ISIS-held zones while two are being held in Syria, the report said.
Of particular concern to intelligence services, some 200 have left to come back to France, prompting fears they may stage attacks mirroring the January 7-9 shooting spree that left 17 dead.
Sueur added that 152 Islamist radicals were currently in prison in France.
Authorities are worried about prison radicalization and have unveiled a raft of measures to try and fight this, such as hiring an extra 60 Muslim chaplains on top of the 182 who already work in jails.
In July, French MP Meir Habib warned that some 1,000 French nationals were in "Jihad camp" in Syria, boning up on their terror skills.
"These are 1,000 ticking time bombs," he said at the time. "If Jews cannot live safely in France, this is not just a problem for Jews, but for France itself."
Several infamous terrorists have spent time in Iraq and Syria, including Mehdi Nemmouche, a French national suspected of killing four people in an attack on the Jewish Museum in Brussels in May 2014; the Kouachi brothers behind the January 2015 Charlie Hebdo attacks reportedly trained with Al Qaeda; and HyperCacher supermarket murderer Amedy Coulibaly claimed in a posthumous video to have been a member of ISIS. 
AFP contributed to this report.