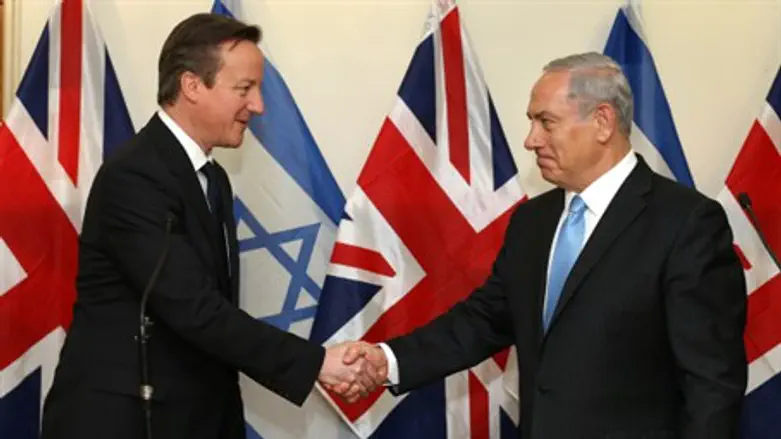 David Cameron is favored by most Jewish voters for his support for Israel
Flash 90
British Jews will overwhelmingly vote for the center-right Conservative party in upcoming UK general elections, a poll has shown, spurning the left-wing Labor party over its increasingly hostile policies towards Israel.
A survey carried out by the Jewish Chronicle revealed that 69% of Jewish voters said they would vote for Prime Minister David Cameron's Conservative party on May 7, compared to just 22% who said they would vote for Opposition leader Ed Miliband's Labour party.
When asked who they felt was best for the Jewish community in general, the contrast was even starker: 64% said Cameron was better, while just 13% preferred Miliband.
That will come as a slap in the face for Miliband, who is himself Jewish but whose party is being seen to harbor ever-more extreme anti-Israel positions.
Indeed, a majority (73%) of Jewish voters said the parties' stances on Israel were either "very" or "quite" important in influencing how they intended to vote. Unsurprisingly then, the Jewish community's views on that topic reflected almost exactly how they viewed the parties and party leaders in general: 65% said they favored Cameron's positions on Israel, and 61% said the same thing about the Conservative Party as a whole. In contrast, just 10% backed Miliband's stance, and only 8% supported the position of the Labour Party on Israel.
The figures will not come as a great surprise to most British Jews, who are growing increasingly concerned over how radical anti-Zionist rhetoric within the British political discourse is feeding the alarming rise in anti-Semitism throughout the UK. 
Under Miliband, that discourse has reached fever-pitch. Last year Labour introduced a non-binding vote in the British parliament to recognize "the State of Palestine" - with Miliband telling MPs they would be required to vote for the motion.
That is just the tip of the iceberg, however, as the Labour party - once popular with Jewish voters - has joined the wider European Left in becoming ever more aggressively anti-Israel.
Less recently, but no less significantly for many Jewish voters, was Miliband's endorsement of left-wing extremist Ken Livingstone as Labour's official candidate for London mayor back in 2012.
British Jews were outraged at the choice of Livingstone - a notorious anti-Israel activist who has been repeatedly accused of anti-Semitism both before the mayoral elections as well as since - and many former Jewish supporters publicly abandoned the party as a result.
In contrast, David Cameron has repeatedly reaffirmed his support of Israel both in parliament and outside of it.
At a Hanukkah reception for Jewish voters late last year, he declared "Britain is a friend of Israel. A good, a candid, a trusted friend of Israel - and that is how as long as I am prime minister it will always stay," and rejected attempts to draw an equivalence between Israel and Hamas. 
One month earlier, he defended Israel inside parliament, after an anti-Israel Labour MP called on him to condemn Israel for the previous government's proposed "Jewish State Bill".
"Israel is one of the few countries that actually ticks the boxes in terms of freedom," Cameron shot back.
Aside from the two top contenders, barely any Jews said they would vote for the two other main parties.
According to the poll, the left-wing Liberal Democrats would receive just 2% of the British Jewish vote, while the right-wing Euroskeptic UK Independence Party (UKIP) would receive just one per cent.
Both those parties have also been embroiled in controversies regarding Israel and the British Jewish community.
The Liberal Democrats have come in for fierce criticism after repeatedly failing to discipline an MP with a long history of extreme anti-Israel comments, some of which have crossed the line into outright anti-Semitism.
And UKIP, despite some attempts to position itself as a pro-Israel party, has essentially alienated the Jewish community altogether by becoming the first political party of the election campaign to back a ban on shechita.
The poll, which can be seen here in full, also revealed that British Jews are more politically-engaged than both the general public as well as other minority groups, with 78% saying they planned to vote next month