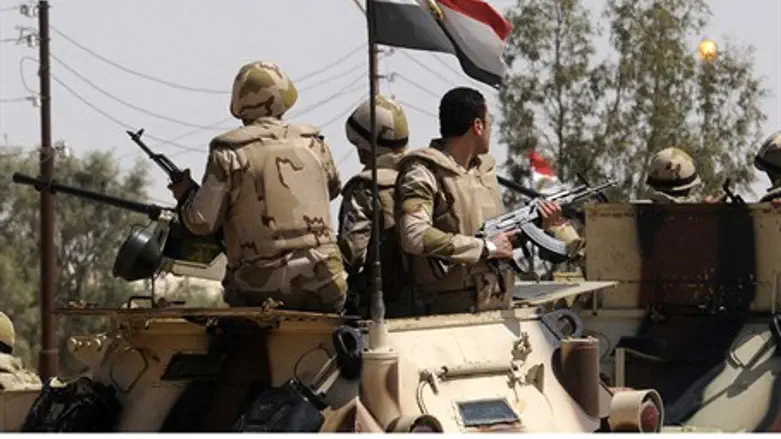 Egyptian soldiers (illustration)
Reuters
Noha Hashad (51), an Egyptian nuclear scientist who fled the Nile state in 2011 after her support of Israel made her a target for torture over many long years, has exposed troubling insights regarding Egypt's military buildup in the Sinai Peninsula, as it fights terrorist organizations there.
Speaking to Israel Hayom's Emily Amrousi from her new home in Haifa, Hashad was asked to give her take about Egypt's actions in Sinai, where the Egyptian army has been fighting radical groups such as Ansar Bayt al-Maqdis, a group that recently swore allegiance to Islamic State (ISIS).
"That's all for show," appraised Hashad. "In the race for the presidency, Ansar Bayt al-Maqdis supported (President Abdel Fattah) al-Sisi, who isn't really fighting them."
The nuclear scientist warned "Egypt is preparing for war with Israel. It armed and trained Hamas in Gaza. Whoever knows Arabic can hear the heads of Egyptian military intelligence talk about wide canals that open up between Israel and Egypt that will be used at the appropriate time."
The warning echoes appraisals by Col. (res.) Dr. Shaul Shay, former deputy head of the Israel National Security Council, who wrote in Israel Defense last December that the "Badr 2014" military maneuver, its largest in decades, was meant to prepare for "a potential conflict with Israel."
Hashad spoke to the Israeli paper about the culture of hatred for Israel that has been rampant in Egypt, despite a decades-old peace treaty.
She argued that the conflict between Israel and Palestinian Arabs isn't the cause of Egyptian hatred for Israel, but rather "the Palestinian struggle is a byproduct of Egyptian hatred. (Palestine Liberation Organization founder Yasser) Arafat served in the Egyptian army. The Palestine Liberation Organization was invented by Egypt during the reign of (former Egyptian President Gamal Abdel) Nasser."
"Egyptian generals give lectures everywhere and tell stories of how Israel is the only enemy of the Arabs, the only target," said Hashad. "The incitement against Jews is done on a daily basis on television, in films and by famous actors. They treat Israel as a temporary phenomenon."
Egypt has been imposing a massive buffer zone inside Gaza on the southern border with the Sinai, evicting thousands of locals and creating a presence within the Hamas stronghold. 
Last February the Nile state sealed a $2 billion arms deal with Russia, and just last Tuesday US President Barack Obama unfroze American military aid that had been suspended in the violent coup that put al-Sisi in power in July, 2013.
"The Koran is a Zionist text"
Hashad received her doctorate in nuclear physics from Beni-Suef University, and taught nuclear physics at the university as well as at Cairo University. She also ran her own research laboratory.
Born as a Muslim in Cairo, she was sent to a private school in Saudi Arabia where she studied Islam. Her mother's family traces its ancestry to Hussein Bin Ali, the ground of the founder of Islam Mohammed, and himself the founder of Shia Islam.
She told Israel Hayom that her father's family has a connection to Judaism, saying, "apparently, my last name, Hashad, is derived from the Hebrew word Hassid."
After a chance encounter with an Israeli professor through an e-mail in 1999 and a rebuff from the government denying her from attending a conference in Jerusalem or leaving Egypt, her interest in the Jewish people was sparked by a BBC article that quoted the Koran referencing the Temple and King Solomon.
"I discovered that the Koran mentions Jewish rights to the land of Israel in a clear manner. Later on, during my interrogations, I was accused of the horrible crime of supporting Zionism. If being a Zionist means to say that the land of Israel belongs to the people of Israel, then the Koran is a Zionist book," she said.
Hashad elaborated that in the Koran "it is written that the land of Israel belongs to 'the nation of Moses.' Who are 'the people of Moses' if not Israel? This also appears in books that offer commentary about the Koran. The sheikhs know this, but they prefer to nurture the incorrect narrative in order to deny this right to the Jews and to take over land."
Secret police crackdown
Eager to reveal more of this hidden information about the Koran, Hashad went to the library of Al-Azhar University, considered one of the most important Islamic repositories of texts and research.
At the institution, she told Amrousi, she found the "original interpretation of the Koran before it was politicized and it turns out that, indeed, I was correct. The Land of Israel belongs to the Jews."
Her research caught the attention of informants who tipped off the secret police, who had her blocked from the library and had her arrested. In 2002 she was arrested by a police officer who kicked and punched her repeatedly, tearing ligaments in her knee, shattering her jaw and causing a herniated disc in her back.
Then in jail, without being given medical treatment she was thrown in a cell with other women at which point the officer told them "you get a Jewish woman. Show me what you know how to do."
He left her to be assaulted by the other women, and at a certain point another officer came in to the cell to beat her with a wooden stick. After several days of the torture, she was released, only to be arrested five more times over the next two years.
"In one instance, police officers took me to a Jewish cemetery, poured gasoline on me, and threatened me by placing a match close to my ear," she said. "They told me that I gave them inspiration and ideas on how to kill all of the Jews. This is what happens to anyone in Egypt who tries to speak up in favor of Israel."
Exodus from Egypt
Hashad finally got her opportunity to flee in 2011, as the "Arab Spring" saw Hosni Mubarak's regime toppled.
"I took part in the demonstrations in Tahrir Square," she told Israel Hayom. "The events that took place there were like a miracle. It was my Passover, my spring, my own exodus from Egypt. The security services collapsed. I submitted a request to travel to Jordan for medical treatments. The torture that I endured left me paralyzed in my back and foot, my jaw was shattered and I needed surgery."
She was able to make it to Jordan, and from there to Israel where she finally was able to sort out the diplomatic hardships and establish herself.
"Israel is a jewel. Israel is a diamond, and I'm lucky to be here," Hashad said.
Currently she is working to found a center promoting peace in the Middle East by confronting the cultural hatred towards Israel.
She is also translating Palestinian Authority (PA) chairman Mahmoud Abbas's first book, "The Birth and Death of Zionism" from 1977, into English to reveal the true face of Israel's "peace partners."
She has received death threats, but she says "I'm not afraid. I don't know why. I don't have the gene of fear."