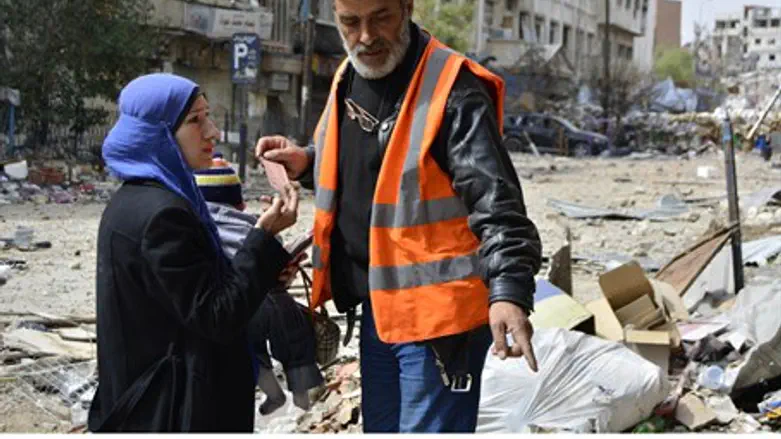 Yarmouk has been wracked by fighting between ISIS, rebels
Reuters
Among the Palestinian Arab fighters beheaded by the Islamic State terrorist group (ISIS) in Damascus's Yarmouk camp was a senior Hamas figure in Syria, according to emerging reports.
On Saturday, senior Israel Arab journalist Khaled Abu Toumeh posted a graphic image which appeared to show the severed head of Sheikh Abu Salah Taha, held aloft by an ISIS fighter in Yarmouk.
ISIS has been involved in fierce clashes inside the camp since Wednesday, as it seeks to wrest control of it from Palestinian Islamist rebels aligned with Hamas.
As of Sunday morning, ISIS were said to be in control of between 50-90% of Yarmouk, according to various reports. The takeover of the camp - located at the southern edge of the Syrian capital - is the closest ISIS has come to the heart of the Assad regime. Even more alarming for the regime are reports that ISIS's Yarmouk offensive was made possible with the cooperation of the Nusra Front, Al Qaeda's official arm in Syria, which until now has been involved in a bloody rivalry of its own with ISIS.
Concerns over the possibility of further jihadi advances into Damascus have even reportedly spurred the regime into making the unprecedented move of facilitating military aid to rebels inside the camp to fend off the ISIS assault.
Yarmouk has been under siege by government forces for nearly two years, with some 18,000 civilians still trapped inside, and the regime is currently in control of its northernmost areas, to block off any rebel advances further into the capital. Around 2,000 of those remaining civilians have been evacuated over the weekend as the fighting worsens, according to Palestinian sources.
Regime airstrikes have also been witnessed in the past several hours, although as yet there is no word on any casualties.
Despite that ISIS appears to have the upper hand, and has reportedly set about beheading Palestinian fighters and civilians alike in areas under its control in a grisly campaign of retribution, posting evidence of its atrocities online.