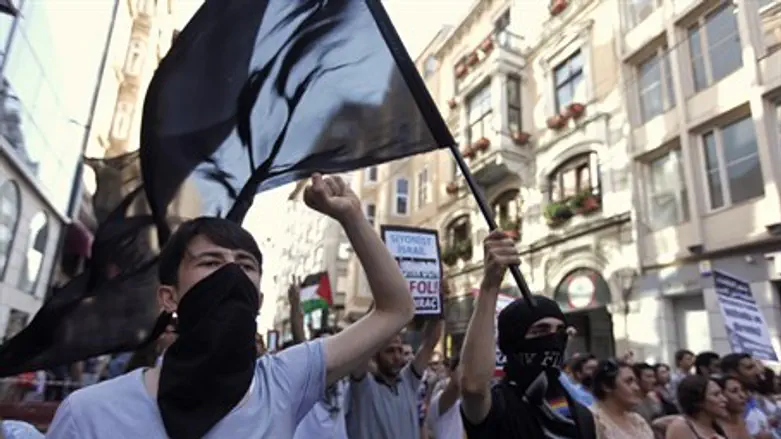 Protest in Turkey (illustration)
Reuters
Allegations that Ankara is anti-Semitic are unfounded, Deputy Prime Minister Bülent Arınç claimed Thursday - saying instead that the many instances of hate speech or riots against Jews or Israel are "reactions" to the Israeli government. 
"No one in Turkey is anti-Semitic," Arınç stated in a Channel 2 interview. "Most of the Turkish people strongly react against the Israeli government." 
He added that if Jerusalem wants to improve its relationship with Anakara, Prime Minister Binyamin Netanyahu must declare intent for peace with Palestinian Arabs and remove import, export, and travel restrictions on Hamas-controlled Gaza. 
"We hope that there would be more positive statements from Netanyahu over the Palestine issue, Gaza issue and the resolution in Middle East," he added. "We wait to see an Israeli government's strong will to end grievances between Palestine [sic] and Israel." 
Arınç's echo similar sentiments he made during a speech last week, at the opening ceremony of the newly-restored Great Edirne Synagogue. 
"There is no anti-Semitism in Turkey or racism," he stated, according to the Daily Sabah. "They won't find support from the public. We are truly sorry about how European and other countries lag behind Turkey in that sense." 
Who's fooling whom?
Turkey has sent a host of mixed messages to Turkish and world Jewry over the past year, with some gestures rejecting Jews and other seemingly embracing them. 
Several months ago, American officials expressed deep concern over the rising levels of anti-Semitism in Turkey. A report in 2013 revealed that young Turkish Jews were leaving the country in droves as a result of the anti-Semitism.
Turkey has seen a rise in anti-Semitic hate crimes since the rise of Erdogan's Islamist AKP party. Although violent attacks are still relatively rare, anti-Jewish incitement has become commonplace.
As a possible form of damage control, Turkish President Tayyip Recep Erdogan took the time in December to send Turkish Jews a greeting for the holiday of Hanukkah, shortly after reports over anti-Semitism aired. 
The Turkish president said in his greeting that Turkey would carefully preserve its rich cultural and historical heritage, while highlighting that Turkey's Jewish citizens were "the fundamental elements of Turkey."
But Erdogan, and several other top officials in Turkey's political echelon, has also repeatedly lobbed insults at Netanyahu and at Israel, with several officials claiming in January that Netanyahu attending a solidarity rally against Islamist terrorism was "hypocritical." 
Those comments were relatively mild for Erdogan, who last year compared Israelis to Hitler. 
Those statements echoed an openly anti-Semitic address Erdogan made back in 1998, during his stint as mayor of Istanbul, in which he declared that "the Jews have begun to crush the Muslims in Palestine, in the name of Zionism. Today, the image of the Jews is no different than that of the Nazis."