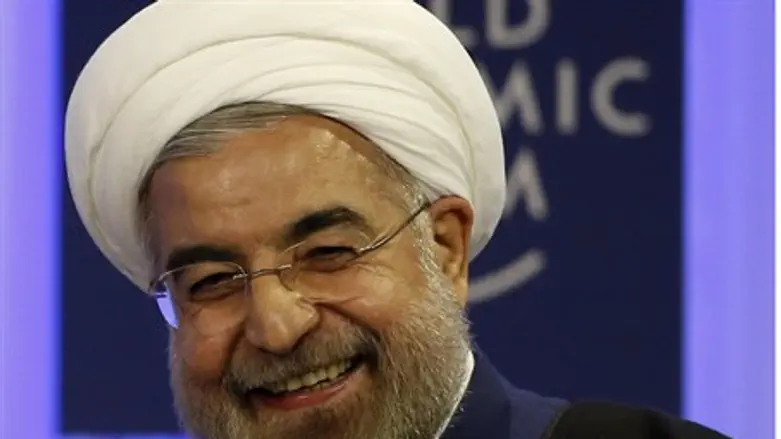 Iran's President Hassan Rouhani
Reuters
Israel warned on Friday that a framework deal with the West over Iran's controversial nuclear program was "very dangerous," saying that Tehran is seeking an atomic weapon and is now one step closer to achieving that goal.
"This framework (agreement) is a step in a very, very dangerous direction," government spokesman Mark Regev told journalists, adding that Iran's "single goal" behind the accord was to build a nuclear bomb, reports AFP.
"Not only does it leave Iran with an expensive nuclear infrastructure but it fails to shut down even a single Iranian nuclear installation. It leaves Iran with thousands of centrifuges to continue to enrich uranium," Regev said.
"It allows Iran to conduct research and development to build new and better centrifuges," he added.
Iran and Western powers struck an outline agreement in Lausanne, Switzerland on Thursday, paving the way for Tehran to have sanctions removed on it while imposing temporary limitations on its nuclear program.
The deal allows the Islamic regime to continue enriching uranium at limited amounts for a ten year period, at which point that caveat wears off. It also has a 15 year moratorium on building new nuclear facilities, and transparency guidelines to be in effect for 20 years.
The removing of sanctions is also to be phased in as Iran keeps its promises, but Iranian Foreign Minister and negotiator Javad Zarif said Thursday night that the US was lying about the deal, and that the sanctions were to be lifted immediately and completely.
Prime Minister Binyamin Netanyahu is holding a security consultation on Friday regarding the new deal, after warning on Thursday night that the agreement threatens Israel's existence, giving legitimacy to Iran's nuclear program while restoring its economy and allowing it to continue enriching uranium.
Israel has noted that there are 17 states which have peaceful nuclear programs, and none of them enrich uranium as Iran will be allowed to continue doing. 
In addition to openly calling for the destruction of Israel, Iran has continued to exhibit its overt hostility towards America as well.