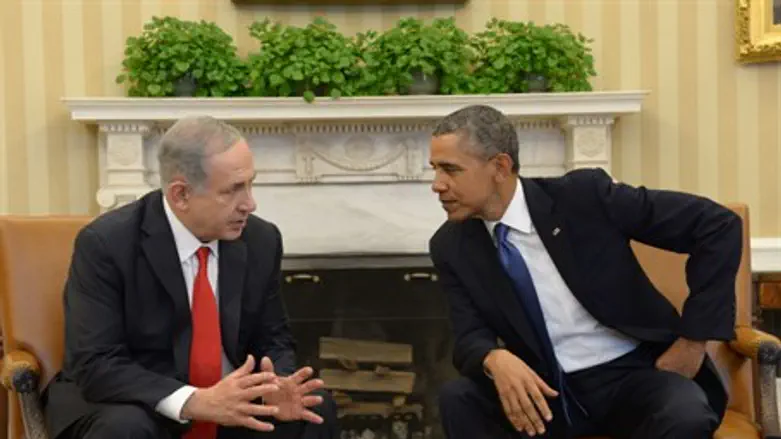 Netanyahu, Obama in the Oval Office
Flash 90
Prime Minister Binyamin Netanyahu spoke to President Barack Obama on Thursday evening and expressed Israel's strong opposition to the framework agreement with Iran which poses a grave danger to Israel, the region and the world, a statement from the Prime Minister's Office said.
"A deal based on this framework would threaten the survival of Israel," Netanyahu told Obama, according to the statement.
"Just two days ago, Iran said that 'the destruction of Israel is non-negotiable,' and in these fateful days Iran is accelerating the arming of its terror proxies to attack Israel."
"This deal would legitimize Iran's nuclear program, bolster Iran's economy, and increase Iran's aggression and terror throughout the Middle East and beyond. Such a deal would not block Iran's path to the bomb. It would pave it," warned Netanyahu.
"It would increase the risks of nuclear proliferation in the region and the risks of a horrific war. The alternative is standing firm and increasing the pressure on Iran until a better deal is achieved," Netanyahu told Obama.
The conversation between the two leaders came hours after Obama touted the framework agreement, reached after days of talks in Switzerland, as "an historic understanding with Iran which, if fully implemented, will prevent it from a nuclear weapon."
"I am convinced that if this framework leads to a final comprehensive deal it will make our country, our allies and our world safer," he asserted.
Israeli officials were not convinced, telling reporters later on Thursday that the framework deal will be remembered as a "historic mistake".
"If an agreement is reached on the basis of this framework, it is an historic mistake which will make the world far more dangerous," said the officials, briefing journalists on condition of anonymity.
"It is a bad framework which will lead to a bad and dangerous agreement. The framework gives international legitimacy to Iran's nuclear program, the only aim of which is to produce a nuclear bomb," they added.
Intelligence Minister Yuval Steinitz (Likud) made clear in a radio interview on Thursday that all options were on the table in the face of the threat of a nuclear-armed Iran.
This, he added, includes military action.
Steinitz said Israel would seek to counter any threat through diplomacy and intelligence but "if we have no choice we have no choice... the military option is on the table."