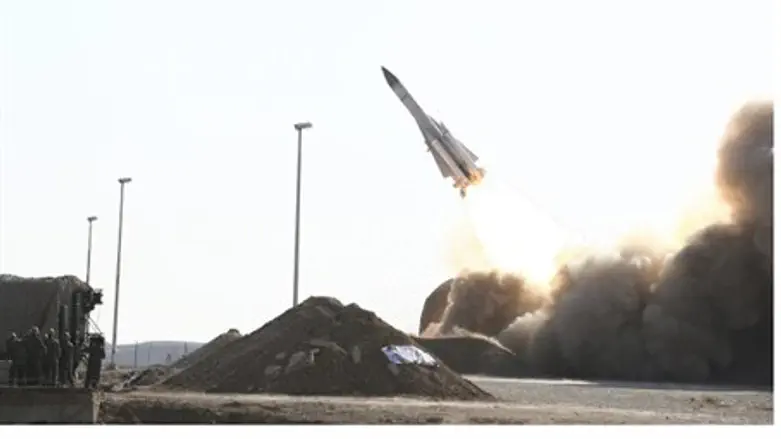 Iranian missile (file)
Reuters
Iran is stepping up its aggressive invective against the US, even after negotiations with world powers over its nuclear program held in Lausanne, Switzerland, inconclusively passed a March 31 deadline and continued with no outline of a deal in sight.
Iranian Defense Minister Hussein Dehqan responded sharply after US Defense Secretary Ashton Carter said Tuesday that if a deal isn't reached regarding Iran's nuclear program, "the military option certainly will remain on the table."
The comment was an "empty statement," according to Dehqan, who said the US has repeatedly made such threats out of a feeling of weakness over its ineffective attempts to steer the nuclear talks and limit Iran's nuclear aspirations.
Dehqan claimed Carter's statements reinforce the Iranian lack of trust in America, and do not in the slightest influence Iran's positions in the talks about its controversial nuclear program.
According to the Iranian defense minister, Iran is ready at all times to deal with any threat its enemies can present, and is prepared to respond harshly on the battlefield.
Ridiculing the US, Dehqan said it appears Carter is suffering from Alzheimer's Disease, for if he was able to remember the American "failures" in the Middle East and the world, he surely would not make such "empty threats."
Iran has long shown overt aggression towards America while making rapid developments to its military capabilities, despite the ongoing talks aimed at easing sanctions. In addition it has been openly calling for the destruction of Israel.
Prime Minister Binyamin Netanyahu warned on Tuesday that the deal being formulated will leave Iran with its secret nuclear facilities and centrifuges used in enriching uranium, a key part of the process in developing nuclear weapons.
Israel has pointed out that there are 17 nations with peaceful nuclear programs, and none of them enrich uranium as Iran is demanding to be able to continue doing.