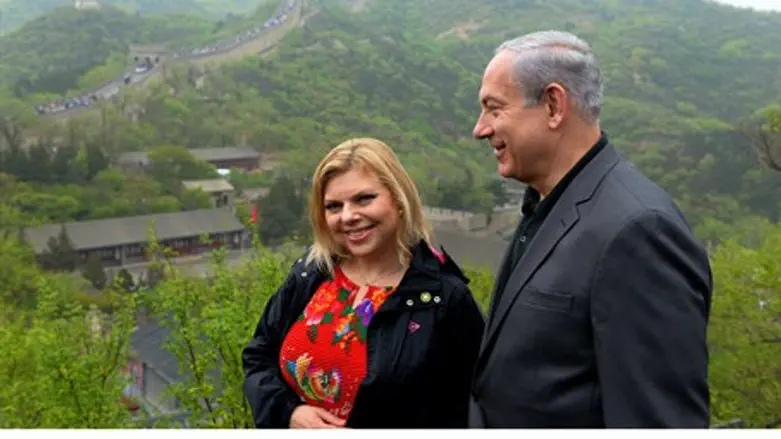 Binyamin and Sarah Netanyahu at China's Great Wall
Avi Ohayon/GPO/Flash 90
Israel has in recent years been pursuing a policy of exponentially expanding ties with Asia, with a focus on India, Japan, China and South Korea. Those ties with the orient are set to grow even further with the visit of two delegations, one from China to discuss a water project, and one to South Korea on the issue of cyber-security.
China, home to the largest population on the globe, faces extreme water challenges. Surging urbanization has meant infrastructure issues, and widespread pollution has limited access to clean water, even as industrialization is drying up other areas of the economic superpower.
That's where Israel comes in - a new "Water City" project meant to use Israeli water technologies to help China faces its challenges was first established by Prime Minister Binyamin Netanyahu during his 2013 visit to China. Afterwards a joint Chinese-Israeli working group was established with Amit Lang, Director-General of the Ministry of Economy at the helm.
A team of experts and water company officials led by Economy Minister Naftali Bennett visited China last November, at which time Shouguang in Shandong province was selected as a starting point for the project. The city, home to one million, will serve as a model to 500 other Chinese cities which will be able to mimic the technologies implemented in Shougouang.
This week, from Sunday to Wednesday, a delegation of 20 Shouguang representatives are visiting Israel in the first working visit from the city to Israel. While in the Jewish state they will meet representatives from water technology companies to integrate the services in their municipal infrastructure, as well as in industrial and agricultural companies in the city.
"The 'China Water City' initiative is a palpable example of developing Israeli trade ties with China and the importance of this target market in the eyes of the Israeli Ministry of Economy," said Lang, who leads the project. "The Chinese market holds many possibilities for Israeli industry in several sectors, and the Israeli water sector has huge potential for large-scale projects."
Ohad Cohen, Head of the Economy Ministry's Foreign Trade Administration, noted the ministry "increased the number of trade attachés in China from one in 2008 to a network of five Israeli trade missions covering all of China and helping Israeli companies build a network of trade ties that lead to breakthroughs as significant as the 'Water City' project."
Israeli exports to China stood at $8.9 billion in 2014, an 8% growth compared to 2013, and imports grew by 12% to a total of $10 billion in 2014. Highlighting how key the Israel-China partnership is becoming, China is Israel's third most important trade partner after the US and EU, even though Israel currently has a free trade agreement (FTA) only with the latter two - talks on a China FTA are to take place this year.
Protecting South Korea's nuclear reactors - online
Another key delegation is taking place with another Asian economic superpower, South Korea. Ministry of Economy figures show bilateral annual trade with Israel and South Korea stood at $1.98 billion in 2014, with $625 million of that amount constituting Israeli exports and $1.36 billion in exports.
An Israeli delegation of Information Security companies led by the Ministry of Economy, Israel Export Institute and Bank of Israel are heading to Korea for an event this Saturday showing how their technology can better secure the Asian state.
The Korea Financial Investment Association, an organization representing the entire Korean financial sector, will be taking part in the event. The association has 301 members, including HSBC Korea, Kookmin Bank, SK Securities, Kyobo Securities, Goldman Sachs and other top companies.
This breakthrough opportunity for Israeli companies in the Korean market has Israel poised to tap into the Korean financial industry, which has borne the brunt of mounting cyber-attacks in recent years. Those attacks include identity theft and data bank breaches.
One of the key breaches took place two years ago against Korea's fourth largest bank, the Shinhan Bank. It's nuclear reactors have also become targets.
"Cyber-security is a hot issue in the Korean economy today following a number of attacks against the financial industry and national infrastructures, like the attack several months ago on a Korean nuclear reactor," revealed Shay Feiler, Head of the Israel Trade and Economic Mission to Korea for the Israel Foreign Trade Administration.
Feiler said the economic mission to Korea "decided to focus on the financial sector this year, following a decision by the Korean government's financial regulator to invest in fortifying the information security of financial institutions, with the aim of significantly boosting this sector."