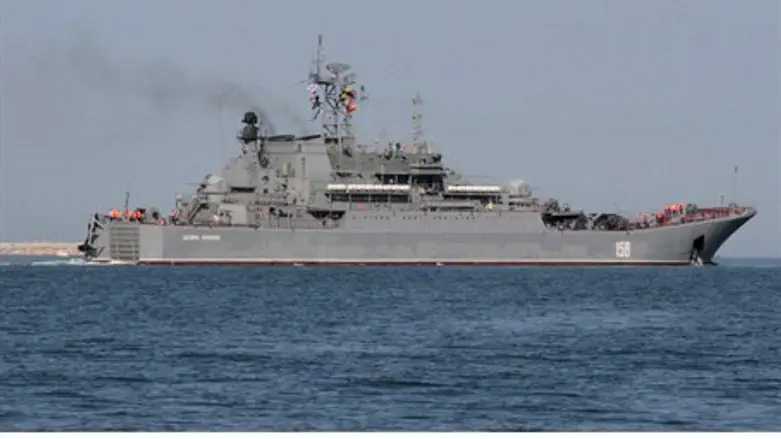 Russian Navy amphibious landing vessel leaves for Tartus (file)
Reuters
Syria would welcome an increased military presence from its Russian allies at its sea ports, President Bashar al-Assad said in an interview with Russian news channels published Friday.
"I can say with complete confidence that we welcome any widening of the Russian presence in the Middle East," including the Syrian port of Tartus on the Mediterranean Sea, Assad said according to AFP.
"For us, the larger this presence in our neighborhood, the better it is for stability in this region," he told journalists.
Russia operates a naval base in Tartus along Syria's western shores that includes warships, barracks and warehouses.
Set up under a 1971 security agreement, Moscow has called its Tartus presence "a supply and technical point for the Russian navy."
Assad told the reporters of eight news channels that Russian military support to Syria "has continued" throughout the past four years of war in his country.
He also welcomed Russia's role in hosting a second round of peace talks but said the negotiating parties must not be influenced by external players.
The Western-backed opposition National Coalition which insists on Assad's ouster has announced it will boycott the April 6-9 talks.
"For the success of these talks, the negotiating parties must be independent and must reflect what the Syrian people, with all of their different political views, want," Assad said.
"Today, people would not accept that their future, their fate, or their rules are decided from outside," he said. "A solution to the Syrian crisis is not impossible - if the Syrian people sit with each other and discuss, then we'll get results."
The internecine warfare began in 2011 when Assad brutally cracked down on signs of the "Arab Spring" seeking more democracy in the state.
Assad said Western countries, including the US, France, and Britain, "don't want a political solution" in Syria and were being "hypocritical."
"To them, a political solution means changing the state, the fall of the state and replacing it with a state that works for them," he said.
More than 215,000 people have been killed since Syria's conflict began, nearly a third of them civilians, according to the Syrian Observatory for Human Rights monitoring group.
In his extensive interview, Assad also said he hoped for a closer relationship with Egypt.
"We hope we will soon see a Syrian-Egyptian rapprochement," he said, although there was as yet no "real relationship" between the two Arab states.
Assad's comments come days after Syrian Foreign Minister Walid Muallem, following talks with his Iraqi counterpart Ibrahim al-Jaafari in Damascus, called for increased cooperation between Iraq, Syria and Egypt.
Egypt has been aligning itself with Saudi Arabia against the rising influence of Iran in the region, and Iran for its part has been backing Assad, meaning the chances of a Syrian-Egyptian alliance would appear to be highly complicated. On the other hand, Egypt last year sealed a large military deal with Russia, which is trying to increase its regional influence as America's influence wanes.