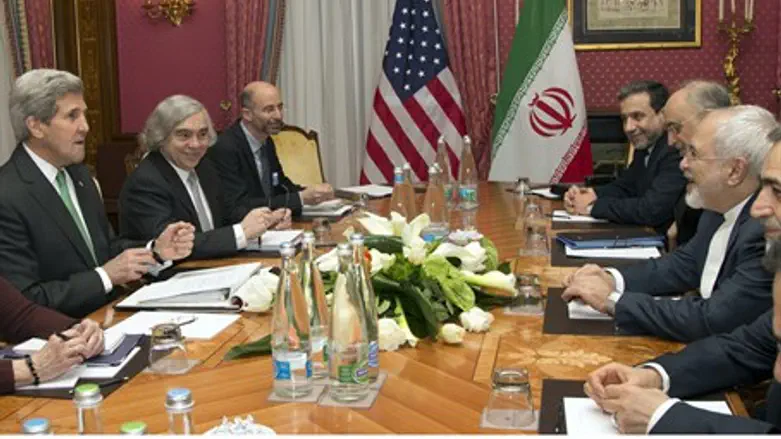 US negotiating team meets with Iranian counterparts for nuclear talks
Reuters
A British diplomat said on Thursday that the six major powers and Tehran had made significant progress in negotiations on Iran's nuclear program, Reuters reported.
At the same time the diplomat said there are several key differences that must be resolved to clinch a preliminary deal by March 31.
"We have made substantial progress in a number of areas but there are still important issues where no agreement has so far been possible," the senior British diplomat told reporters on the sidelines of negotiations in Lausanne, Switzerland.
"Our task, therefore, for the next few days is to see if we can bridge the gaps and arrive at a political framework which could then be turned into an agreement," he added, according to Reuters.
Iran and the six world powers - known as the P5+1 - are hard at work trying to turn an interim deal into a permanent agreement. Iran committed in the interim deal to limit its uranium enrichment to five percent and is gradually winning access to $4.2 billion of its oil revenues frozen abroad and some other sanctions relief.
Talks to reach a permanent deal have continuously stalled, however, and two deadlines for a final deal have been missed.  The six powers hope to clinch a framework deal by March 31 and a comprehensive nuclear agreement by June 30.
Another round of negotiations last week in Switzerland once again did not result in an agreement, though Iran's President, Hassan Rouhani, said that progress was made in the talks.
Earlier on Thursday it was reported that a deal was close and that Rouhani had conducted phone conversations with the leaders of Russia, France and Britain, in an indication that negotiations have entered their "final stretch" and are very near completion.