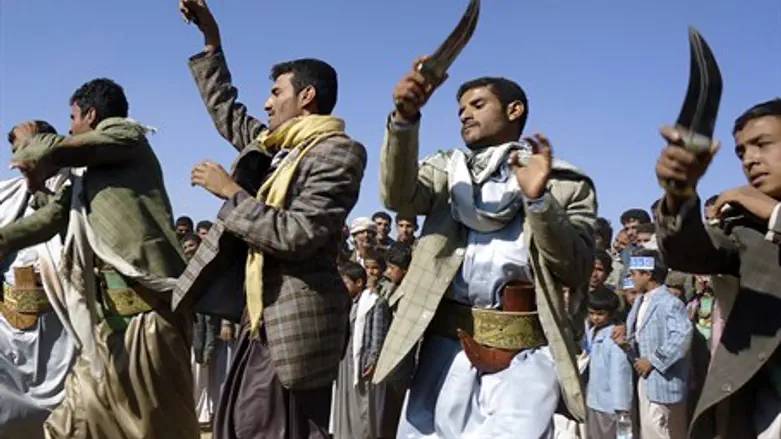 Houthis dance in Yemen (illustration)
Reuters
Iran threatened Saudi Arabia on Thursday, announcing that its foray into Yemen would end up costing it dearly.
The Saudi "aggression," said Iran's Foreign Ministry, would "complicate the crisis in the country and kill opportunities for peaceful resolution of the crisis in the Arab country. The smoke of the war in Yemen will reach the eyes of the Saudis."
As a result of the Saudi participation in air strikes against rebel groups allied with Iran who have taken over the government and booted out the country's President Abd-Rabbu Mansour Hadi – who fled for his life by ship from Aden this week – oil prices shot up Thursday, and markets in Asia sank. Similar drops in stocks are expected in Europe and the US as markets there open Thursday.
The Saudis on Wednesday decided to join a coalition fighting the Iran-backed Houthi rebels, who have basically taken control of the country.
"The operation is to defend and support the legitimate government of Yemen and prevent the radical Houthi movement from taking over the country," said Saudi ambassador to the U.S. Adel al-Jubeir, on Wednesday.
"We have a situation where you have a militia group that is now in control or can be in control of ballistic missiles, heavy weapons and an air force," he said, arguing that the Houthi advance could not be tolerated.
The Houthis have begun pushing south after conquering the capital city of Sanaa last September and overthrowing the government, replacing it with their own temporary government. Over the weekend they took control of the central city Taiz, moving farther south.
In a statement, members of the Gulf Cooperation Countries, which include Saudi Arabia, UAE, Qatar, and Kuwait – all Sunni Muslim countries who fear the advances on their borders made by the Iran-backed Shi'ite Houthis – said that the GCC "followed the dangerous development of events in the Republic of Yemen."
"We have exerted all possible efforts to end these Al Houthi criminal sinful aggressions against our people, which left deep wounds in each Yemeni home," the group said in a letter to members. "We sought with all our power to reach a peaceful solution to get Yemen out from a dark tunnel that the coup Al Houthi orchestrators put the country in, to safeguard our people from the fire of chaos and destruction, and to avoid implicating the country into a war that will burn the entire land that the coup orchestrators sought and continue to seek its ignition."
"This sinful aggression executed by internal militias supported by forces from within who sold their conscience and are only concerned about their self-interests, and also supported by regional powers, whose objective is to dominate this country and to make it a base for their dominance in the region. This threat is not only menacing the security of Yemen only, but also the security of the entire region as well as the world peace and security," the group said.
According to Iranian Foreign Ministry spokesman Marzieh Afkham, the Saudi action was a "dangerous move which is in violation of international responsibilities for respecting the sovereignty of countries" that would "would lead to spread of terrorism and extremism in the region."