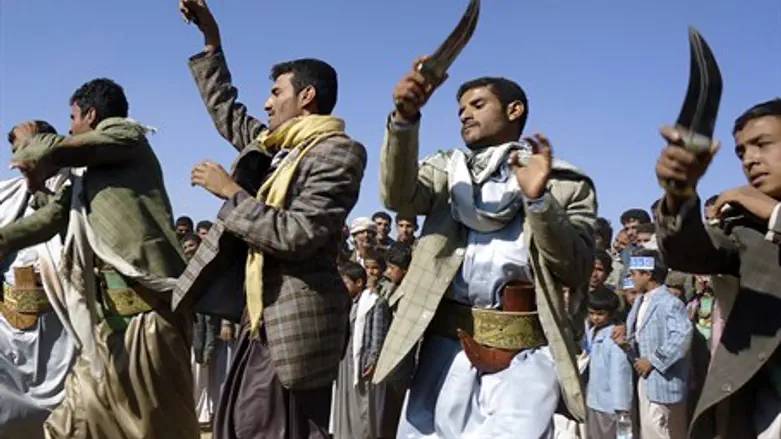 Houthis dance in Yemen (illustration)
Reuters
Saudi Arabia and a coalition of regional allies have launched a military operation in Yemen against rebels threatening the government there, the kingdom's ambassador to the United States said Wednesday night, according to AFP.
"The operation is to defend and support the legitimate government of Yemen and prevent the radical Houthi movement from taking over the country," the ambassador, Adel al-Jubeir, was quoted as having told reporters in Washington.
Al-Jubeir said that for the moment the action was confined to airstrikes on various targets around Yemen, but that other military assets were being mobilized and that the coalition "would do whatever it takes."
The ambassador said he would not go into detail about the support being provided by Saudi Arabia's allies, but added "we consulted very closely with many of our allies and in particular with the United States.
"We are very pleased with the outcome of those discussions," he said, according to AFP.
"We have a situation where you have a militia group that is now in control or can be in control of ballistic missiles, heavy weapons and an air force," he said, arguing that the Houthi advance could not be tolerated.
News of the Saudi operation came a day after American officials revealed that Saudi Arabia had started deploying heavy military equipment on its border with Yemen.
The Houthis have begun pushing south after conquering the capital city of Sanaa last September and overthrowing the government, replacing it with their own temporary government. Over the weekend they took control of the central city Taiz, moving ever south.
One source from the U.S. government called the new buildup on the border "significant," saying the Saudis may be readying to launch airstrikes on the Houthis if they attack Yemeni President Abd-Rabbu Mansour Hadi in his refuge of the southern seaport Aden, a key strategic point controlling the entrance to the Red Sea and ultimately Eilat.
Hadi fled Sanaa for Aden in February, escaping from the Houthis, and earlier on Wednesday it was reported that he had fled his palace in Aden as well.
Government officials denied reports that the president fled the country and said he remains in Aden.
The State Department said it was in touch with President Hadi earlier in the day. It said he is no longer at the compound but could not confirm any "additional details" about his location.