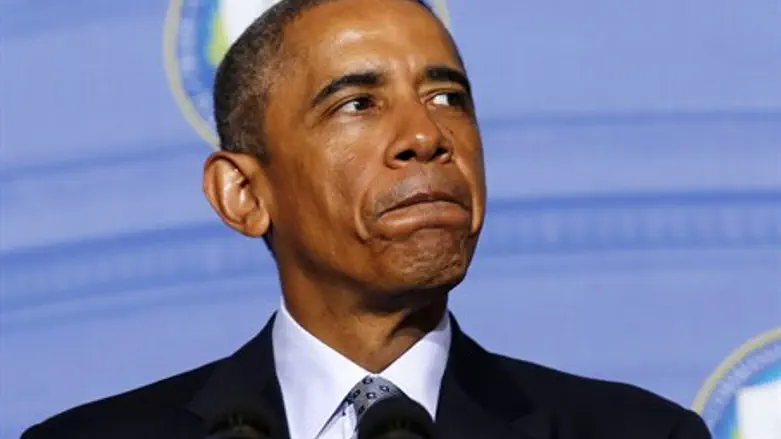 Barack Obama
Reuters
The first Israel-related event to be addressed by a senior White House official after Knesset elections will be that of J Street, a radical leftist American Jewish group.
J Street announced on its website Thursday that White House Chief of Staff Denis McDonough is next Monday to address a conference of over 3,000 people at the Walter E. Washington Convention Center in downtown Washington DC.
The group emphasized that the address comes a mere six days after the Israeli elections, and just ahead of a March 31 deadline for reaching a deal on Iran's nuclear program, which has been a key source of tension between Obama and reelected Prime Minister Binyamin Netanyahu.
"At this pivotal moment, we couldn't be more excited to have...McDonough joining us at the largest pro-Israel, pro-peace gathering in the United States," J Street President Jeremy Ben-Ami said. "As the new governing coalition forms in Israel, we are eager to hear how the White House plans to set the diplomatic agenda and continue to work towards a two-state solution."
McDonough has been a close confidant of Obama since his first presidential campaign in 2008, and is to speak in the conference that J Street says "comes at an important phase of the U.S.-Israel relationship, nuclear negotiations with Iran, and the future of the two-state solution."
In the days before elections, Netanyahu promised that a Palestinian state would not be established on his watch, a stance that has led to a backlash in the Obama administration, which has been pressing for Israel to concede and establish an Arab state in its Biblical heartland of Judea and Samaria.
J Street noted that at the same conference that McDonough will attend, confirmed speakers include Palestine Liberation Organization (PLO) chief negotiator Saeb Erekat, as well as MK Hilik Bar, who is secretary general of the Labor party.
The senate has launched a probe to investigate whether Obama was funding a leftist NGO campaign that tried to interfere with Israeli elections by forcing out Likud in favor of Labor.
J Street launched a campaign that critics termed "repugnant," against Netanyahu's Congress address earlier this month, in which the prime minister opposed the deal being formed with Iran, despite Obama's opposition.
The leftist Jewish organization has also demanded that Israel negotiate with Hamas, the terrorist organization that calls for the genocide of Jews in its charter, and backed the Palestinian Authority's (PA) refusal to recognize Israel as a Jewish state. Reports have also revealed how activists of the group wore T-shirts glorifying a Palestinian Arab terrorist.