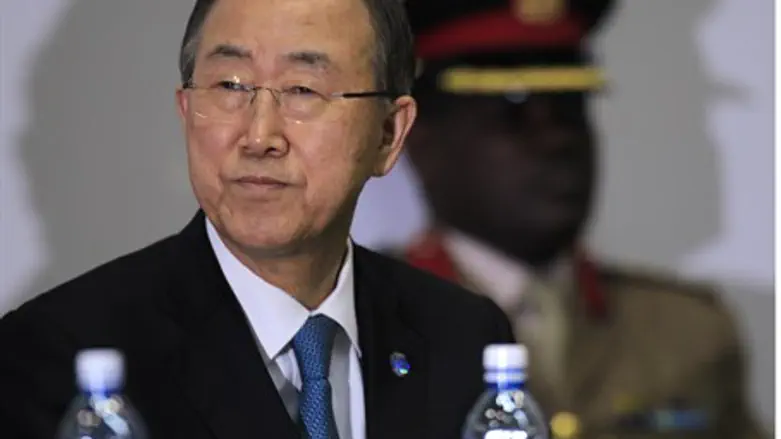 UN Secretary-General Ban Ki-moon
Reuters
UN Secretary-General Ban Ki-moon on Wednesday night joined the chorus of those calling on Prime Minister Binyamin Netanyahu's government to work towards the establishment of a Palestinian state.
According to The Associated Press (AP), in a statement following Netanyahu's landslide victory in Tuesday's elections, Ban called on the Israeli Prime Minister to form a new government that will negotiate a peace agreement that will create "a viable Palestinian state."
UN spokesman Farhan Haq made clear that the unusually pointed statement reflects the secretary-general's expectation and response to Netanyahu's campaign comments opposing a two-state solution.
Netanyahu declared in a series of interviews this week he would do everything in his power to prevent the establishment of a Palestinian state, comments that were dismissed by the United States as things "being said leading up to elections".
According to AP, Haq said Ban's call for the new government to create conditions for a negotiated peace deal includes halting "illegal settlement building."
"The secretary-general firmly believes this is also the best and only way forward for Israel to remain a democratic state," Haq added.
He said Ban welcomed the election results and expressed hopes "for the rapid establishment of a new government that reflects the will of all Israeli voters."
Israel's UN Ambassador Ron Prosor responded to the remarks and denied Israel's democracy is threatened.
"The United Nations may disagree with the policies of the Israeli government, but there is one fact that can't be disputed - that Israel is the only democracy in the Middle East," Prosor said in a statement quoted by AP, noting that voter turnout in Tuesday's election was 72 percent, the highest since the 1999 elections.
"If the UN is so concerned about the future of the Palestinian people, it should be asking why President (Mahmoud) Abbas is in the tenth year of a five-year presidential term or why Hamas uses the Palestinian people as human shields," Prosor added.
The UN chief's call for a "two-state solution" joins that of French Foreign Minister Laurent Fabius, who earlier on Wednesday called for negotiations with the PA to resume in order to achieve "a comprehensive and lasting peace accord".
Similarly,  U.S. Secretary of State John Kerry reiterated last week that President Barack Obama is "committed" to a two-state solution.