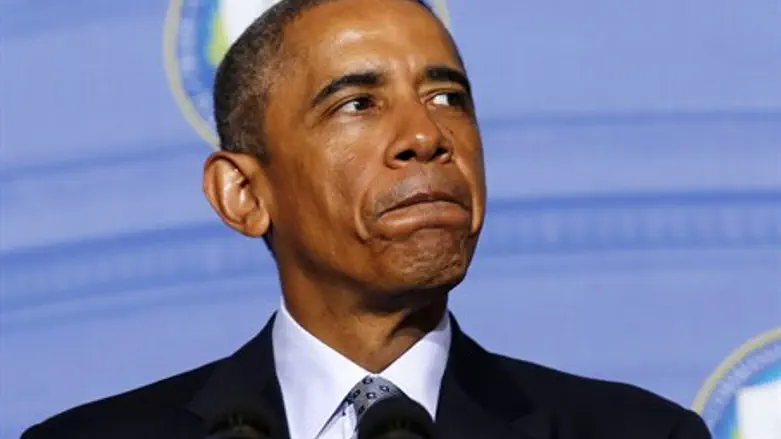 Barack Obama
Reuters
The White House gave a tepid acknowledgement of Israeli Prime Minister Binyamin Netanyahu's reelection on Wednesday, stressing
that his election pledge to prevent establishing a Palestinian state runs against US policy, according to AFP.
After an election campaign that was marked by open hostility between Obama and Netanyahu, the White House said the president had not yet called the prime minister to congratulate him.
Instead, that job was left to Secretary of State John Kerry. "The president in the coming days will also call Prime Minister Netanyahu," said White House spokesman Josh Earnest.
Netanyahu had angered the White House during his reelection campaign by appearing before the US Congress to mount a bid to kill a nascent nuclear deal with Iran that is a key goal of the Obama administration.
Tensions were deepened in the final hours before Tuesday's election when Netanyahu ruled out the creation of a Palestinian state, seemingly upending decades of international consensus.
The White House said that security cooperation between the US and Israel would continue, but Earnest added that "it continues to be the view of the president that a two state solution is the best way to address those tensions."
"In the context of the recent election Prime Minister Netanyahu indicated a change in his position, based on those comments the United States will evaluate our approach to the situation."
The US has until now played a key role in limiting diplomatic maneuvers that would isolate Israel at the United Nations and elsewhere.
The White House also castigated Netanyahu's Likud party for urging supporters to match a large turn out by Arab Israelis.
"The right-wing government is in danger," a Facebook page belonging to Netanyahu warned during voting. "Arab voters are coming out in droves."
"The United States and this administration is deeply concerned by decisive rhetoric that seeks to marginalize Arab-Israeli citizens," Earnest said.
"It undermines the values and democratic ideals that have been important to our democracy and an important part of what binds the United States and Israel together," he continued. "And I can tell you that these are views the administration intends to communicate directly to the Israelis."