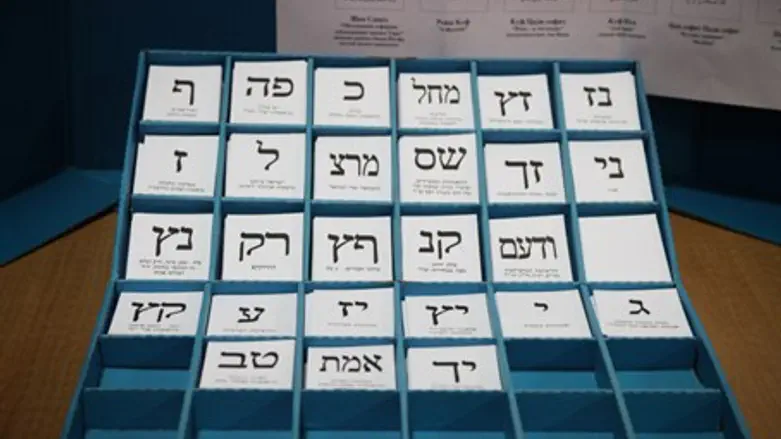 Ballots for 2015 elections
Isaac Harari/Flash 90
As counting of votes continues in the elections for the 20th Knesset, the Likud party may be headed for an even bigger victory than exit polls originally predicted.
As of 5:25 a.m. (Israel time), with more than 99.5% of the ballots having been counted, Likud led the pack with 29 seats. The "Zionist Union" of Labor and Hatnua has 24 seats.
By 7:00, near-final results indicated that Likud had reached 30 MKs.
The Joint Arab List has 14 seats, followed by Yesh Atid with 11 seats and Moshe Kahlon's Kulanu with ten.
The Jewish Home has eight seats, the haredi parties Shas and United Torah Judaism each have seven seats, Yisrael Beytenu has six and Meretz closes out the list with four seats.
Despite earlier indications that it may have passed the threshold, it appears as though Eli Yishai's Yachad party will be left out of the Knesset.
Netanyahu addressed supporters of the Likud earlier Tuesday night, saying the results were a "great victory" for the nationalist camp in Israel.
"Against all odds, we have achieved a great victory for the Likud. We have achieved a great victory for the Likud-led nationalist camp and our people," he said.
"I am proud of the people of Israel who, at the moment of truth, knew how to separate between the important and the secondary issues and focus on the important ones," said Netanyahu, who mentioned issues such as "real security, a responsible economy, as well as social welfare. These are the things that are important to each family. Every father and mother, every young couple , every soldier, every citizen. And all Israeli citizens, Jews and non-Jews alike. All of you are important, and all of you are important to me."