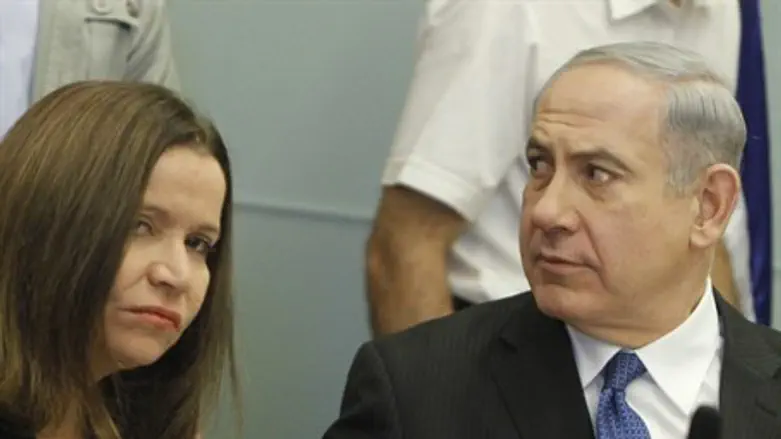 Yechimovich and Netanyahu
Flash 90
Left wing politicians and the leftist news media are attacking Prime Minister Binyamin Netanyahu over a status he posted on Facebook, in which he warned that Arab voters are "moving toward the polling stations in huge numbers" and are being bused there by leftist NGOs.
MK Shelly Yechimovich (Labor) reacted to the status, writing: "No western leader would have dared issue a racist text like that."
"Imagine," she added, "a prime minister or president in any democratic country warning that his rule was in danger, because, for instance, 'black voters are moving in masses toward the polling stations'? Terrible, right? And you know, I think that what is bothering Bibi (Netanyahu) is that Israel's citizens are moving en masse to the polling stations, and simply want to replace him democratically."
"Netanyahu is in a state of panic," claimed MK Ahmed Tibi (United Arab List). "He is inciting against the Arab voters who are taking advantage of their natural and democratic right, like any citizen. Netanyahu and Likud are afraid – and that is why I call on the Arab public to head to the polling stations, more and more, so that Bibi continues to be in a state of panic. Change is at the doorstep."
The Chairman of the United Arab List (UAL), Aiman Odeh, called the day "historic" and added: "I promise you that Netanyahu, (Naftali) Bennett and (Avigdor) Liberman will be in the Opposition from tomorrow morning."
The leftist organization V-15, which is funded by foreign money, rejected Netanyahu's accusations and said that the organization had not deployed any buses in the course of the day, and that its volunteers do not operate in the Arab sector at all.
But reports indicate there was indeed an unusual Arab turnout in the vote.
The UAL said that as of 10 a.m., 10% of eligible Arab voters had voted, as opposed to just 3% at that hour in 2013.
"In the mixed Jewish-Arab port city of Haifa," wrote AFP, "some 50 people were queuing at a polling station in Ahmediya school where pictures of candidates from the Joint Arab List were hanging on the walls outside."
"This is the first time that I've seen so many people here to vote," said Ehab Hamam, a 37-year-old Arab Israeli who works in hi-tech.
"For the Arabs, voting in this election is saying to the right: we are here," he said.
"I've never seen such a long queue outside a polling station," agreed 73-year-old Gideon Leber, a Jewish Israeli voter.