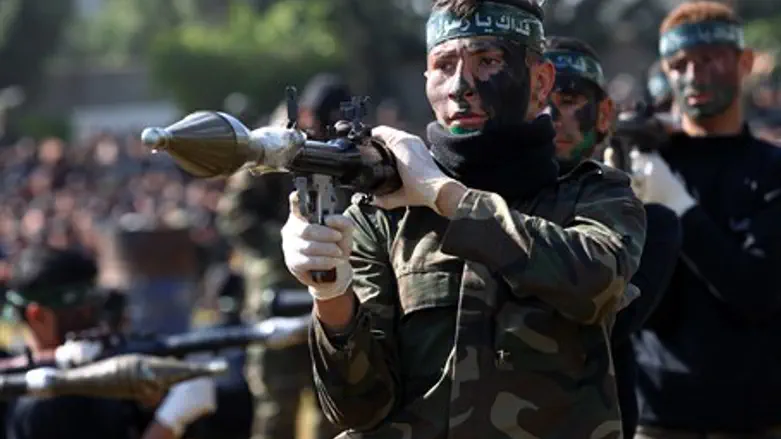 Hamas training camp in Khan Younis
Abed Rahim Khatib/Flash 90
Hamas said Saturday that it has rebuilt numerous bases and training sites on the Israeli border of Gaza, stressing it is "not afraid" of launching its next war against Israel.
The revelations were made in a report on the official website of the Al-Qassam Brigades, Hamas's "military wing," which was cited by the Palestinian Arab Ma'an News Agency.
In the report, Hamas claimed "no sooner has the war come to an end, than the Al-Qassam Brigades started a new stage of the conflict in preparation for the battle of liberation."
The talk of preparation for the next war comes after documents were leaked last week indicating Hamas and Israel are engaged in talks on a five-year ceasefire agreement, with Hamas demanding an ease on imports as a condition. That demand is thought to be behind the reports that Israel has allowed in dual-use Portland cement that can be used to build terrorist facilities, despite the fact that Hamas has used such construction materials to rebuild its terrorist infrastructure.
According to Hamas's report on Saturday, the group's terrorists have rebuilt training sites near the border in northern and eastern Gaza, as well as in the west, with the southern region limited by an Egyptian buffer zone that has involved the expulsion of hundreds of Gazans.
A Hamas official was quoted saying the training near the border is to continue "without fear of the occupation's threats," adding that the recent construction on the sites enlarges them so they can contain all "the training the mujahideen (jihadists - ed.) could need." 
Two major blocs of training sites were revealed in the report, one being in Yarmouk to the east of the Shejaiya neighborhood of Gaza City, and the second being termed "Palestine," located near the former Jewish community of Nisanit in northern Gaza that was destroyed in the 2005 Disengagement.