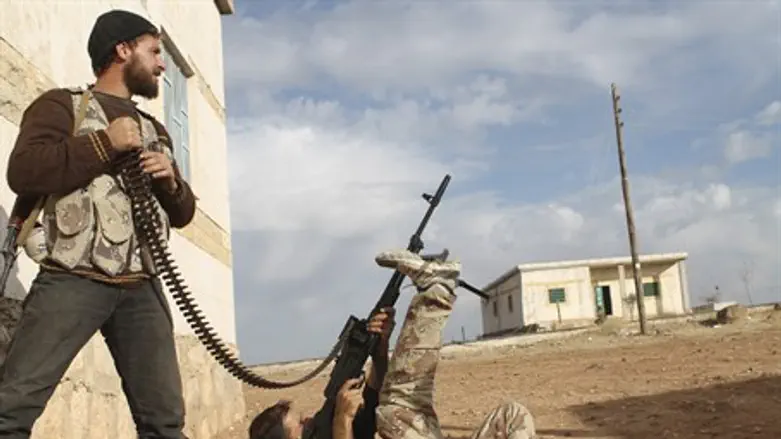 Syrian rebels in Aleppo
Reuters
The United States is working to provide an additional $70 million in non-lethal aid to the Syrian opposition, the State Department said Friday, according to Turkey's Anadolu news agency.
Deputy Secretary of State Tony Blinken announced the new funds during an event marking the anniversary of the Syrian revolution. The event was attended by Syrian opposition representatives and Syrian Americans.
The proposed funds would include $30 million to bolster the Syrian opposition and local governance structures in their efforts to provide basic services in the war-torn country, according to Anadolu.
An additional $25 million is earmarked for non-lethal support for approved armed Syrian opposition groups "to protect their communities from the duel threat posed by the Assad regime and extremist groups," according to the State Department.
The remaining roughly $15 million will be used to provide digital security training for activists, civil society members, journalists and other opposition figures, and to support documentation of war crimes, human rights violations and other Syrian government abuses.
Congress must first sign off on the additional funding, the report noted. If approved, it would bring to nearly $400 million in U.S. assistance to the Syrian opposition since the war began in 2011.
In January, Syria's opposition interim government received $6 million from the United States in the first direct financial U.S. support for the rebel body.
The money is for development and relief projects in "areas liberated by the moderate Syrian opposition," it said in at the time, including food deliveries, public services and supporting local rebel councils.
More than 200,000 people are reported to have died in the conflict in Syria, and roughly half of the country's pre-war population has been displaced.
(Arutz Sheva's North American desk is keeping you updated until the start of Shabbat in New York. The time posted automatically on all Arutz Sheva articles, however, is Israeli time.)