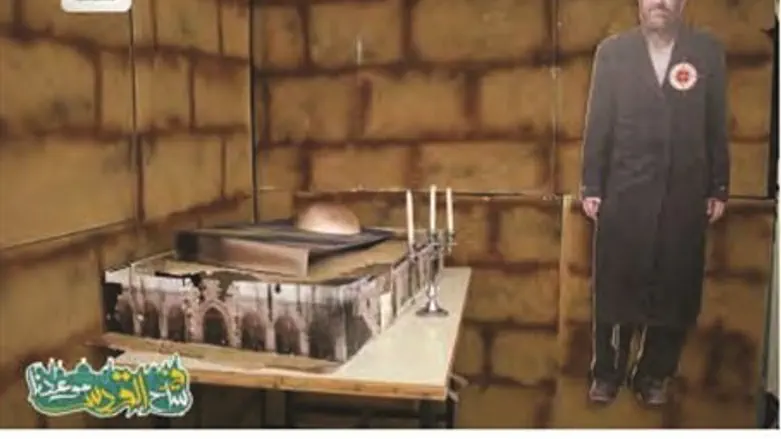 University display encourages murder of Yehuda Glick
Matzav Haruach
Five months after a Muslim terrorist critically wounded Temple Mount activist Yehuda Glick in an assassination attempt, Islamist incitement against Glick is continuing apace.
Veteran Israeli journalist Haggai Huberman revealed in the Matzav Haruach magazine how two weeks ago the Islamic Bloc inaugurated a new exhibition on "Jerusalem" at the An-Najah university in Shechem (Nablus). Instead of focusing on the history of the holy city, however, the entire exhibition was made up of anti-Israel incitement, expressed through pictures and other displays.
Among them: a poster of Yehuda Glick, who has been campaigning for decades in favor of Jewish prayer rights on the Temple Mount, emblazoned with two clear targets on his head and chest, in the form of a rifle's crosshairs.
Long before an Islamist gunman aligned with the Islamic Jihad terrorist group gunned him down at point-blank range outside a Jerusalem conference, Glick had been a target of Muslim incitement for his activities.
Despite being the holiest site in Judaism, Jews are forbidden from worshipping on the Temple Mount due to threats of violence by Islamists and pressure placed on the Israeli government by Muslim countries - most notably Jordan, whose Waqf Islamic trust administers the site. Glick is one of the most high-profile Jewish activists campaigning against the discriminatory measures, earning him the wrath of extremist Muslims. 
Glick has made a remarkable recovery since being shot four times in October 2014, but continued threats against his life have forced him to take extraordinary precautions, including going into a state of semi-hiding and traveling with armed bodyguards. 
Other displays at the university glorified the increasingly-frequent use of cars in terrorist attacks, showing a vehicle plowing into Jewish Israeli pedestrians.
At the close of the exhibition last Friday - on the Jewish festival of Purim - an exhibit was presented encouraging stabbing attacks against Israeli civilians by a masked Arab.
The An-Najah university in Shechem was known as a hub of incitement to terrorism during the days of the Second Intifada, between 2000-2005, mainly from Hamas - which is represented among the university's student body via the Islamic Bloc.
According to the Meir Amit Intelligence and Terrorism Information Center, the Palestinian Authority's security apparatus used to keep close tabs on Hamas activity at the university - placing many Islamists under surveillance and even arresting a significant number. However, the Center claims that since the May 2011 reconciliation agreement between Fatah and Hamas, Islamic Bloc activists have been granted free reign to carry out similar activities and openly incite on campus.