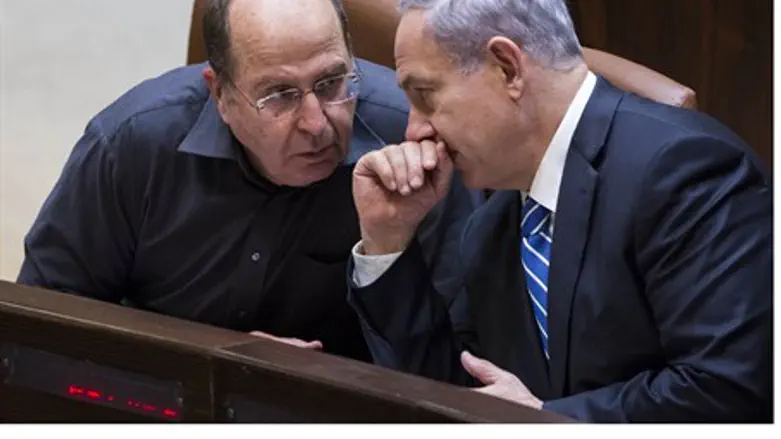 Moshe Ya'alon, Binyamin Netanyahu
Yonatan Sindel/Flash 90
Defense Minister Moshe Ya'alon made good use of his title Thursday morning, defending Prime Minister Binyamin Netanyahu against harsh attacks from security experts on Wednesday. 
During a special press conference from the Commanders for the Security of Israel group, a number of retired security officials blamed Netanyahu for Israel's deteriorating security situation. 
Primarily, they accused him of not accepting responsibility for his failures and for giving speeches instead of taking direct action. 
Speaking to Army Radio on Thursday, Ya'alon acknowledged that he respects and appreciates what the experts have done for Israel's security, but stated outright that "they are wrong big time, and not for the first time."
"I recognize these types of movement that failed: support for Oslo brought us more than 1,000 casualties, support for the disengagement.  But I suggest to stop the slogans and start dealing in principle," Ya'alon stressed. 
"In every recent election, people searched for hope. Oslo was hope, the disengagement from the Golan Heights was hope. It's comfortable to spread hope as if it's some kind of solution. But was need to warn against holding onto a false prophet."
"In this case, unfortunately, it was false prophecy that led us astray and brought us to danger."
The Defense Minister also addressed Iran, noting that "instead of dealing with a substantive engagement with politics, here too, the Prime Minister lacks support." 
"If the Prime Minister did not go out [to speak before Congress] and Iran had a bomb, then they would ask him why he didn't speak, why he didn't try to stop this against the Congress." 
"Now you see European foreign minister saying that the deal is bad," Ya'alon added. 
Ya'alon also discussed upcoming elections and the relatively poor results Likud has been receiving in recent polls. 
"There is definitely concern and worry," he admitted. "If the gap between us and Labor-Hatnua is not bridged, then a left-wing government under Buji [Labor leader Yitzhak Herzog] and Tzipi [Livni] will arise, with the support of the Arabs, Yesh Atid, and all those who pose as right-wing."
Like Netanyahu, however, Ya'alon dismisses claims of a possible unity government with Labor-Hatnua. "I don't see a unity government, because it would be a government of paralysis."