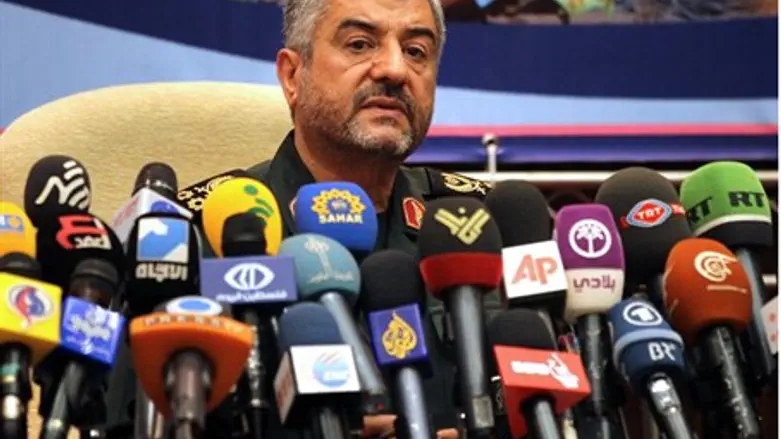 Iranian Revolutionary Guards commander Genera
AFP/Atta Kenare
Iranian Revolutionary Guards Commander Maj. Gen. Mohammad Ali Jafari claimed Wednesday that Iran can defeat the US in "any scenario."
At a convention in Tehran, Jafari boasted "we have grown so much (more) powerful that we don't feel concerned about the enemy's unwise attitude. We can go past any enemy scenario, and this has been proved in our contemporary history," according to the semi-official Fars News Agency.
Clarifying which enemy he was referring to, Jafari said "the US should find a way to survive and continue its endangered life, but we are surprised at the enemy's insistence on costly and useless scenarios," in reference to the sanctions imposed on Iran.
A day earlier at a meeting of the Assembly of Experts that elected Ayatollah Mohammad Yazdi as its new chairman Tuesday morning, Jafari made the claim that the US had created the Islamic State (ISIS) terrorist group to counter Iran's expanding influence in the region, which it is exercising through various terrorist organizations such as Hezbollah in Lebanon and the Houthis in Yemen.
A member of the assembly, Hojjatoleslam Ali Eslami, told the news agency on Wednesday that "Jafari addressed the Experts Assembly members and said Iran has gained such desirable success in dealing with regional issues that it has led to the US failure."
Eslami said the Revolutionary Guards commander had stated "today, not only in Palestine and Lebanon but also the Iraqi and Syrian people admit the Islamic Revolution's influential role and appreciate the Iranian nation in this regard, despite enemy propaganda."
Iran is currently engaged in nuclear talks with the US and world powers ahead of a March 31 deadline, with Israel warning that the deal being formulated will leave Iran with nuclear breakout capabilities and pose a danger to the entire world.