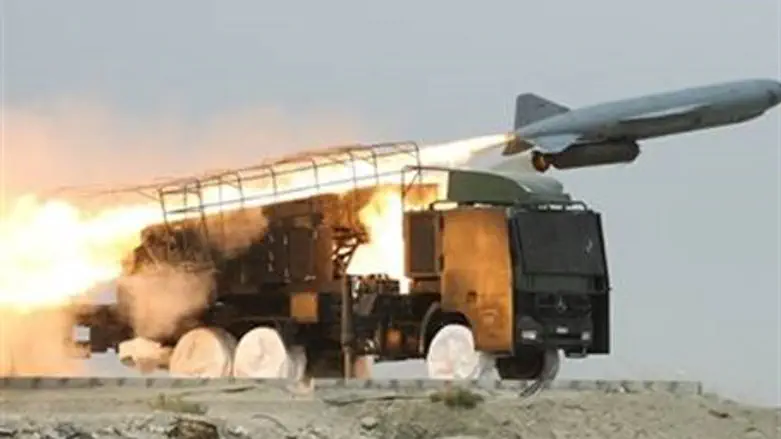 Iran's Revolutionary Guards fire a Saegheh missile (illustration
Reuters
As the US and its allies continue to discuss limiting Iran's nuclear program with Tehran, the Iranian military on Sunday announced that it had developed a new long-range cruise missile with a range of some 2,000 kilometers (1,200 miles) – putting Israel well within its reach, Israeli sources said. The missile, called the "Soumar," features "different characteristics in terms of range and pinpoint accuracy in comparison with the previous products," Iranian Defense Minister Hossein Dehqan said at the unveiling of the missile Sunday.
The missile, Dehqan said, was developed based on the needs of the Iranian Armed Forces, and is "a crucial step towards increasing the country's defense and deterrence might."
On Saturday, an Iranian military official said that the country would be unveiling yet another missile system will be unveiled on April 18, when the country marks National Army Day. That system, called the Talaash-3, is based on the Russian S-200 missile system, the official said.
In his speech in Washington last week, Prime Minister Binyamin Netanyahu said that while the world is capitulating to Iranian demands to allow it to continue with its nuclear development program, the issue of its delivery systems – the advanced missiles it is developing – has not even been placed on the agenda yet, because Iran refuses to discuss it at all. Commenting Sunday, Iran's Aerospace Division head Amirali Hajizadeh said that Tehran "will never negotiated the country's defense capabilities, including the development of its ballistic missiles."
In a statement, Iran's state-controlled Press TV quoted government sources as saying that "Iran has repeatedly assured other countries that its military might poses no threat to other states, insisting that the country's defense doctrine is entirely based on deterrence"
The new Soumar missile is named for a city on the Iraqi border whose inhabitants were nearly all wiped out by an Iraqi chemical attack during the Iran-Iraq war.