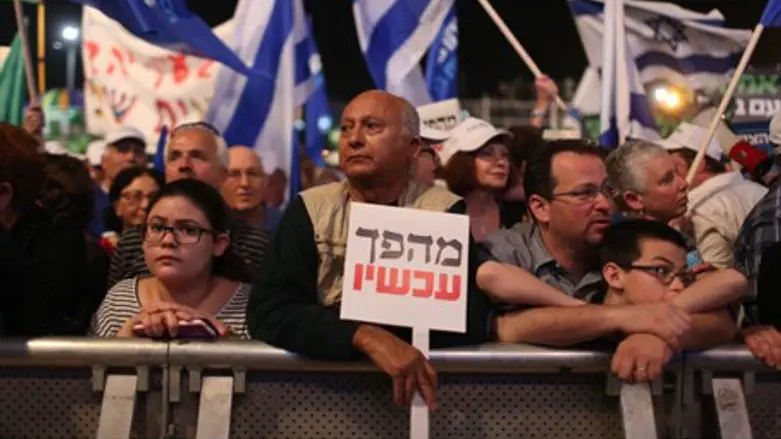 Leftist rally in Tel Aviv, March 2015
Hadas Parush/Flash 90
The Likud party on Saturday night dismissed the leftist rally that took place at the Rabin Square in Tel Aviv, saying it was part of a foreign-funded campaign.
About 30,000 people participated in the rally which called for a change in leadership for the 20th Knesset.
Participants included representatives from Meretz, Peace Now, Labor and representatives of the V15 group.
Former Mossad chief Meir Dagan spoke at the rally as well, blaming the right and Prime Minister Binyamin Netanyahu for last summer's war in Gaza.
"The rally in Tel Aviv is part of a campaign orchestrated by the left which is financed with millions of dollars from outside Israel. Its goal is to replace the nationalist Likud government headed by Netanyahu with a leftist government headed by Tzipi [Livni] and Buji [Herzog] who will be supported by the Arab party. Millions of dollars are flowing from overseas these days to raise the number of voters in the Arab sector," the Likud party said.
"The keynote speaker, Meir Dagan, is a leftist. It is strange that he now claims that he does not trust the current leadership, when he himself wanted to extend his tenure as head of the Mossad under the leadership of Prime Minister Netanyahu," continued the Likud.
"But the wise public knows the truth: Prime Minister Binyamin Netanyahu leads resolutely and firmly the international campaign to stop Iran from obtaining nuclear weapons, he does not give in to international pressure, and only a Likud government headed by Netanyahu will prevent the establishment of a second terrorist state in Judea and Samaria and keep Jerusalem united forever," concluded the Likud's statement.
Earlier on Saturday, MK Yariv Levin (Likud) blasted Dagan for his comments at the rally, saying that Dagan's "irresponsible chatter causes great damage to national security."
"Dagan's politically motivated acts of hatred are clear and his hatred for the Prime Minister has long blinded his ability to see reality," said Levin.
"The damage is even worse when Dagan's dangerous statements are fully exploited by Iranian propaganda to condemn Israel," he added.