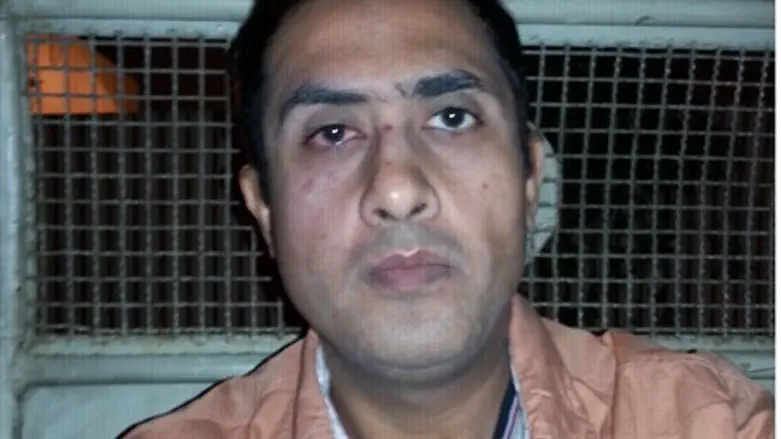 Fishel Benkhald after being attacked
Fishel Bennkhald
A Jewish activist in Pakistan was savagely beaten by a Muslim mob Wednesday - and then arrested and roughed up again by police.
Fishel Benkhald - who is leading a one-man campaign to preserve the old Jewish cemetery in Pakistan's largest city, Karachi - has been a vocal activist for minority rights in the country, which is overwhelmingly Sunni Muslim and where minorities such as Christians, Hindus and non-Sunni Muslims are routinely persecuted.
Speaking to Arutz Sheva Thursday, Benkhald - the son of a Muslim father and a Jewish mother, but who identifies as Jewish - told how he had agreed to a face-to-face debate with a Muslim Pakistani man after a discussion on the topic of minority rights on Twitter.
"I was debating over Twitter with a young educated Pakistani Muslim that non-Muslim Pakistanis should be allowed in theory to be elected president according to our constitution," the discussion was purely theoretical, he noted, given that non-Muslims account for only around 3% of the Pakistani population. 
After a back-and-forth "I proposed to debate face to face," said Benkhald. "He asked for me for my cell phone number and I gave it to him."
The two agreed to continue a friendly discussion at a restaurant in Karachi. But when he got there, Benkhald soon found himself ambushed. 
"I went there alone but he was with his friends, we started the debate in a normal discussion manner but soon it got heated up and cursing started."
At that point, a "mob" began to gather around him  "and two of the guys who were with him started manhandling me - I should have left at that time.
"They started punching me and when I fell they started kicking my head. Someone also tried to snatch away my mobile."
Benkhald managed to tape part of the altercation, including the the assault. Arutz Sheva has opted not to include it due to the explicit and violent nature of parts.
At that point police arrived, but instead of arresting his attackers, they detained Benkhald.
"The police came and took me away, they didn't take the other guys. The police asked me if I am from Israel or from any other country. I told them that I am a Pakistan and am Jewish from (my) mother's side but registered as a Muslim in Pakistan."
Blindfolded and cuffed, he was then handed over to Pakistan's Rangers paramilitary force, who continued questioning him about his ethnic origins, and going through his social media pages after demanding his passwords.
"They beat me, but not much," claims Benkhald, and accused him of being a spy for either Israel, the US or India.
Eventually he was released after his brother intervened and bailed him out. the ordeal left Benkhald with a swollen eye and bruising.
Bankhald admits that in retrospect his decision to agree to a personal debate in a back-alley restaurant was unwise, and says he will be scaling-down his online activism as well out of fears for his safety. 
He says he hopes to travel abroad "to a free country" to study Hebrew and Judaism some day, but that until then he will continue his activism in Pakistan as best he can.
At the start of the twentieth century Pakistan was home to a small Jewish community based largely in Karachi, mainly Iraqi and Indian Jews who immigrated over the years.
However since the country's partition from India in 1947 and a rise in anti-Semitism that community has disappeared, leaving Benkhald as the self-declared "last Jew in Pakistan."