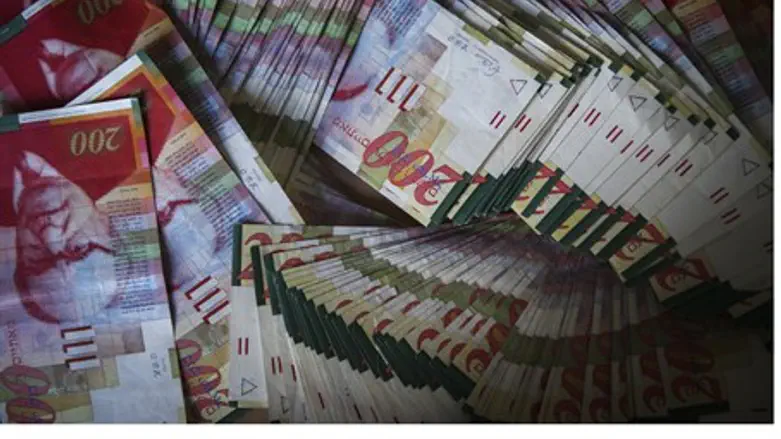 (Illustration)
Nati Shohat/Flash 90
On Monday, the Bank of Israel slashed interest rates, knocking them down to their lowest level ever – but any effect the move had was more or less erased Tuesday, when Federal Reserve chair Janet Yellin said that an interest rate hike in the US was unlikely in the coming months.
As a result, the shekel, which had fallen to close to the NIS 4/dollar level on Monday, bounced right back on Wednesday, closing at NIS 3.938, a rise of 0.4% in one day.
The back and forth was reflective of the ongoing "currency wars" between countries determined to keep their currencies as "cheap" as possible, in order to compete more favorably in the world economy. In the shekel's case, exporters had long complained that the relatively high value of the shekel versus the dollar – in recent months, the shekel has been as high as NIS 3.20/dollar – made it harder to them to sell abroad.
While exporters have to sell for the market price abroad cannot raise their prices in foreign currency – lest they lose market share to competitors – they have to pay wages and production costs in Israel in shekels. The more the shekel is worth against the dollar, the fewer shekels exporters can get when they take the dollars earned abroad and "cash them in" for local currency.
To offset this, the Bank of Israel has been cutting interest rates, in order to make shekels less attractive to foreign investors, and this making the shekel worth less against foreign currencies. However, while the Bank of Israel has been cutting its interest rates, so has the Fed, as have nearly all central banks in Europe – with the result being a "race to the bottom," as each country vies to make its currency "cheaper" in order to compete more effectively in foreign markets.
On Tuesday, the old maxim, "don't fight the Fed" - meaning that in the final analysis, it is the US Federal Reserve that sets the tone for the world economy – was again proven. In her remarks, Yellin did not raise or lower the Fed's prime interest rate – but did say that the Fed could increase rates. Not right away, though; for the next several months, rates are likely to stay right where they are. According to analysts, some investors were caught off-guard by Yellin's comment that rates could rise only later on, so the dollar remains weak – with the result that investors who had been selling shekels bought some back. Analysts said that the shekel-dollar rate should now remain stable for the coming months, until the Fed makes a major move on increasing rates.