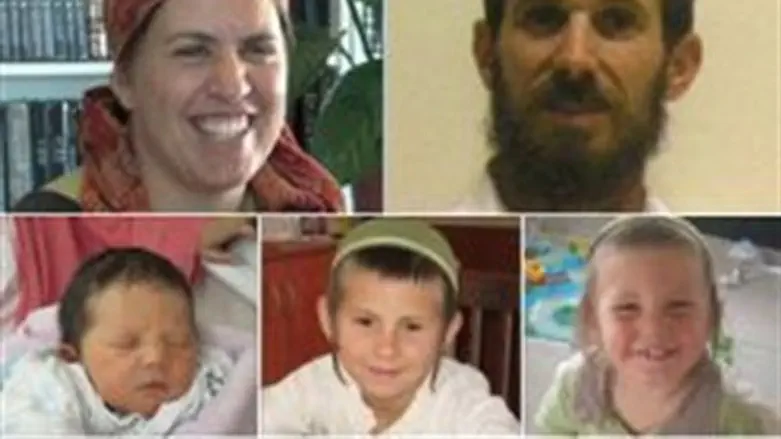 Fogel Family
Israel news photo: A7 Staff
It's been four years since the entire country was shocked by the savage murders of the members of the Fogel family of Itamar, and on Tuesday a memorial event for the family was held – at the Itamar Yeshiva, which is named for Rabbi Ehud (Udi) Fogel, the father and husband of the family who was executed by Arab terrorists who invaded his home and murdered him, his wife Ruth, and three of their six children, ages 11, 4, and three months.
Participating in the event were members of the Fogel family, and the family of Ruth, whose maiden surname was Ben-Yishai. Also participating were top IDF officials, along with hundreds of friends, students of the yeshiva, and residents of Itamar.
Rabbi Avihai Ronsky, who is the rabbi of the Itamar Yeshiva, said that he recalled the night of the murder all too well.
"It was a Friday night, and I was lecturing students in the Yeshiva about the secrets of the Jewish sacrifice rituals, which were discussed in the portion of the week, Vayiqra (Leviticus). I mentioned several names of residents of our town who had been murdered in terror attacks, terming them 'sacrifices.' Little did I know that several hours later we would have a whole family that was a sacrifice."
The best way to remember the victims, said Rabbi Ronsky, was "through action. We are doing, not just remembering, by bringing in dozens of new families to live in Itamar, by expanding the yeshiva, by building and planting. We have many secular visitors who ask how it is possible for us to go on, in the wake of such danger and heartbreak – and our answer is that we are here in the middle of the country, the middle of Samaria.
"The terrorists want to get rid of us, but we hold tight to the land, to the hard stones of the Land of Israel. This is the most important thing now, and the last will and testament of Udi and Ruth – in place of their blood, which was spilled, they command us to add life, to turn suffering and sadness to building and joy," he added.
In 2011, two PA Arab terrorists entered the Fogel family home and murdered parents Ehud (Udi) and Ruth Fogel and three of their six children: 11-year-old Yoav, 4-year-old Elad, and three-month-old Hadas. Their bodies were discovered by 12-year-old Tamar, the oldest sister, when she returned home from an evening with friends. Two other children, ages 8 and 2, survived because the terrorists did not notice them asleep in another room.
The two terrorists who murdered the Fogels were caught in 2011. They admitted to the attack, and expressed pride in the killings. A poll of Palestinian Arabs conducted shortly after the murders found that one-third shared their sentiment, and supported the massacre.