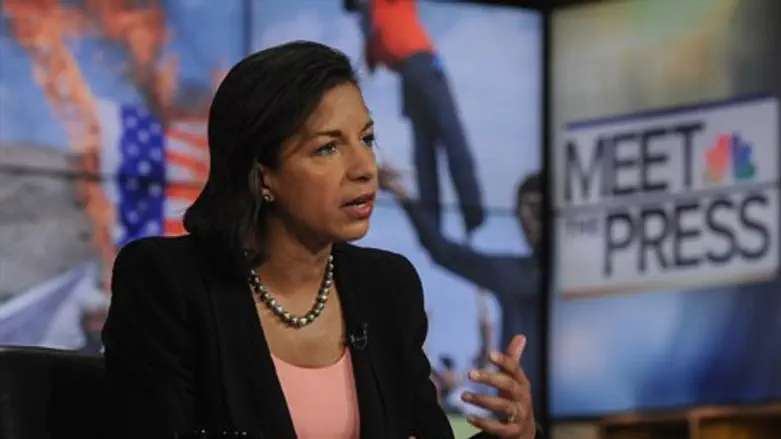 Susan Rice
Reuters
US National Security Adviser Susan Rice said Tuesday that Israeli PM Binyamin Netanyahu's March 3 speech in Congress is "destructive" to the relationship between the two countries.
Rice made the comments in an interview with Charlie Rose on PBS. 
"The relationship between Israel as a country and the United States as a country has always been bipartisan and we have been fortunate that the politics have not been injected into this relationship," Rice said.
"What has happened over the last several weeks by virtue of the invitation that was issued by the speaker and the acceptance of it by Prime Minister Netanyahu two weeks in advance of his elections is that on both sides there have been injected some degree of partisanship, which is not only unfortunate, I think it's destructive of the fabric of the relationship."
"It's always been bipartisan. We need to keep it that way. When it becomes injected with politics that's a problem," she added. 
Asked by Rose if she thinks Netanyahu is coming to Washington in order to better his chances in the Israeli elections, Rice said that she is "not going to ascribe motives to the prime minister. Let him explain it himself. The point is, we want the relationship with Israel to be unquestionably strong; we want it to be immutable, regardless of which party may be in charge in each country." 
US Secretary of State John Kerry issued a veiled jab at Netanyahu Tuesday, saying that those voicing their opposition to deal being negotiated with Iran over its nuclear program are "uninformed."
"The President has made clear - I can't state this more firmly: the policy is Iran will not get a nuclear weapon. Anybody running around right now, jumping to say well, we don't like the deal, or this or that, doesn't know what the deal is. There is no deal yet," Kerry told a Congressional hearing.

"I caution people to wait and see what these negotiations produce. Since 2013 we have been testing whether or not we can achieve that goal diplomatically. I don't know yet. But it's the most effective way to solve the problem and we will prove that over the course of these next weeks and months," he insisted.

"The P5+1 talks have made inroads since the Joint Plan of Action. We've halted the progress of Tehran's nuclear program. We've gained unprecedented insight into it and we expect to know soon whether or not Iran is willing to put together an acceptable and verifiable plan."