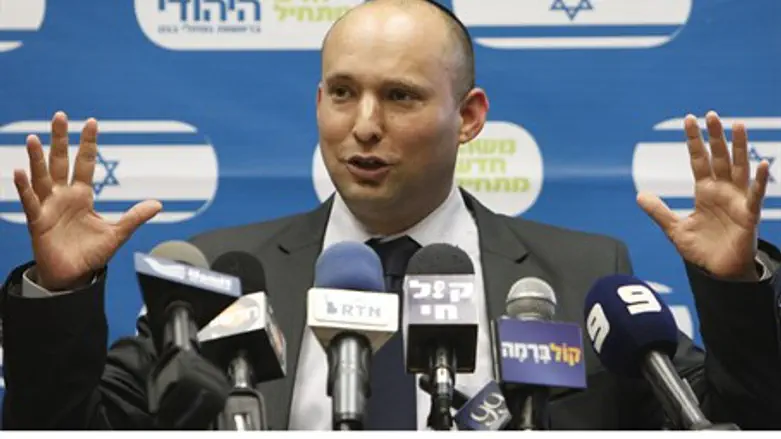 Naftali Bennett's party is polling strongly among younger voters too
Miriam Alster/Flash 90
Jewish Home Chairman and Economics Minister Naftali Bennett is joining Prime Minister Binyamin Netanyahu in Washington next week, he announced Tuesday night, in order to support Israel's position on the Iranian nuclear issue.
Bennett intends to help spearhead a campaign to introduce Israel's stance against a nuclear deal with Iran in the mainstream media, and he plans to speak to hundreds of media outlets about the issue. 
"The nuclear issue has no right, no left," he stated. "During this time, when is Iran nearing nuclear weapons proliferation under the eyes of world powers, we have no time for politics. I call on all party leaders to put their differences aside and join the prime minister in his mission against Iran."
"I'm going to do it and be in the United States for the last political opportunity that we have to stop the Iranian nuclear program," he continued. "Mr. [Yitzhak] Herzog, I urge you to put the left to the side and to join us on our national campaign mission." 
Netanyahu will be addressing Congress on March 3, and is also schedule to speak at the American-Israel Public Affairs Committee (AIPAC) annual policy conference.
Fears have heightened drastically this week, after some progress was reported in talks between Iran and P5+1 Monday, with diplomats admitting that Western powers aim for a deal lasting at least ten years under which Iran will be left with its centrifuges - but would need at least one year to produce enough highly enriched uranium for a single nuclear bomb, the so-called "breakout" capacity. Iran has been pressing for 19 times its current enrichment capacity.
The issue has temporarily crossed partisan lines in a tense pre-elections Israel, with even Likud's MK Yisrael Katz calling on Herzog, the leader of Labor and Netanyahu's greatest competition, to join forces to stop Washington's encouragement of a nuclear deal. 
"The American Congress is likely to be the final brake before the agreement between the major powers and Iran," Netanyahu said earlier Tuesday.