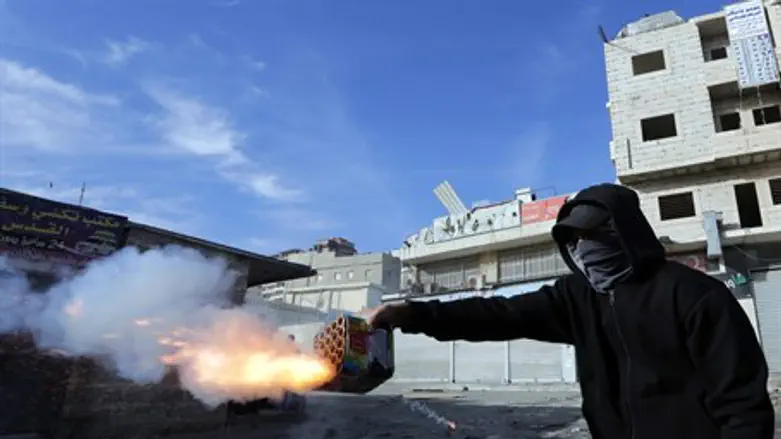 Arab rioter shoots fireworks (file)
Sliman Khader/Flash 90
An Arab rioter attacking IDF forces was reportedly shot dead on Tuesday morning at the Dheisheh "refugee camp" located outside of Bethlehem, in Judea.
The 19-year-old rioter, named as Jihad al-Jafari, was killed overnight during clashes targeting the IDF, according to Palestinian Arab medics who spoke to AFP.
An IDF spokesperson noted that the troops were assaulted by a group of Arab rioters hurling rocks, firebombs and other incendiary devices, and that in the onslaught a soldier was wounded lightly and transferred to hospital.
"After trying in vain to disperse the crowd of attackers, our forces felt they were in danger and opened fire at the leader of the rioters, who was hit," the spokeswoman said.
Al-Jafari was said to be a supporter of Palestinian Authority (PA) Chairman Mahmoud Abbas's Fatah faction, whose Al-Aqsa Martyrs' Brigade "military branch" has conducted numerous terrorist attacks against Israel, including the firing of rockets at Israeli civilian centers from Gaza during Operation Protective Edge.