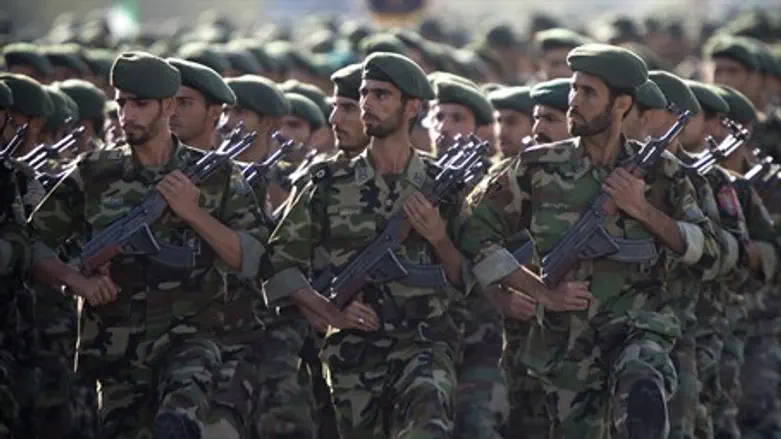 Iranian Revolutionary Guards
Reuters
Iran has built an active front from Israel's northern Mediterranean border adjacent to Rosh Hanikra, all the way to the Golan Heights. The goal: to undermine and wage war against the "Zionist entity" with conventional, powerful military means from within Lebanon and Syria.
So says Yigal Carmon, Counter-terrorism Adviser to prime ministers Yitzhak Shamir and Yitzhak Rabin, and founder and president of the prestigious Middle East Media Research Institute (MEMRI).
"Iran has taken advantage of the chaos in the Middle East to form a united front from Tehran, through Baghdad, Syria and Lebanon," Carmon told Kol Yisrael public radio on Monday. "It has turned Syria into a Hezbollah-state for this purpose, and is making inroads into the PA-controlled areas in Judea, Samaria and Gaza for this purpose."
Carmon and his MEMRI colleague Yael Yehoshua publicized a ten-page treatise on the topic last week, but it has received relatively little publicity.
Iran has several objectives, Carmon explained: "These include deterring Israel from attacking Iran's nuclear capabilities, capturing the Golan from Israel, and the like – but these are sub-objectives. Their main goal is ultimately to destroy Israel."
He said that what must be done now is, at least, to sound the alarm: "During the Yom Kippur War, people saw the threat before them, but many people didn't want to say anything. We must not make that mistake again."

Despite the tensions between Israel and the U.S., Carmon said, "the Americans listen very carefully to what Israel has to say in these areas. We must warn about this from every rooftop. Everyone knows already about the nuclear threat, but this is something new, and more immediate and acute in many respects."
To bolster his case, Carmon quotes from Nahed Al-Hattar – a columnist in the Lebanese daily Al–Akhbar – who wrote on Feb. 13 of this year: "Israel faces a fateful crisis. As much as it feared the Iranian nuclearprogram, it never imagined that Iran would be standing on its border even before its nuclear agreement with the Americans was complete."
"The Iranianthreat to Israel is no longer theoretical, nor does it have anything to dowith Israel's deterrent of using its nuclear weapons, which cannot be usedconsidering the international power balance. The threat has become direct, practical and conventional," Al-Hattar argued.
The entire report can be read here.