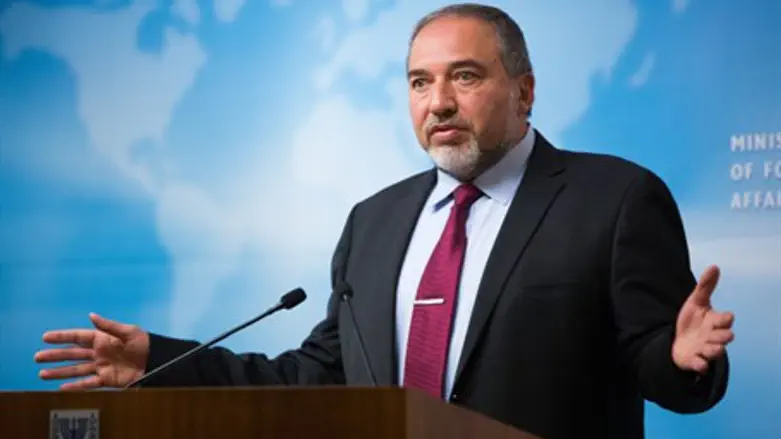 Foreign Minister Avigdor Liberman
Yonatan Sindel/Flash 90
Foreign Minister Avigdor Liberman on Friday hinted that Prime Minister Binyamin Netanyahu is talking too much about Iran's nuclear program instead of taking action.
Speaking to Channel 2 News, Liberman suggested that Netanyahu's upcoming speech to Congress, in which he will warn against a bad nuclear deal with Iran, does not have significant importance and that too many speeches harm Israel's deterrence.
"When Menachem Begin decided to destroy the Iraqi nuclear reactor, There were no speeches or public debate. We woke up one morning - and there was no reactor. The same is true for what we read in the media about Syria. One morning we woke up and the nuclear reactor was not there. Without speeches and without stories," he said.
Liberman expressed his doubts about an agreement between the West and Iran being able to stop Iran from obtaining nuclear weapons, and said that it is Israel's responsibility to ensure Iran doesn't become a nuclear power.
"We need to make decisions and we cannot pin it on anyone, with all my appreciation for the United States," he said, adding, "We have to act firmly instead of whining constantly. No agreement will prevent Iran from acquiring nuclear weapons. We need to decide alone and to act accordingly."
Liberman, as he has done several times in the past, also criticized the results of Operation Protective Edge in Gaza last summer, saying in the interview, "We cannot even eliminate Hamas, how will we deal with the Iranian program?"
The Foreign Minister also addressed the State Comptroller's report from this week which addressed the inflated expenses of the Prime Minister's Residence and the possibility that a criminal investigation may be opened against Netanyahu over some of its findings.
"I wish for the Prime Minister and his wife to come out clean. I hope an investigation will not be opened against the Prime Minister. I only know that in my case, there's no elections without investigations," he said, referring to the corruption case allegedly involving members of his Yisrael Beytenu party which came to light before the start of the election campaign.
"Six consecutive times I went to elections and immediately after the election campaign began, [the police] began an investigation. Moreover, I have news for you: I have no doubt that this entire investigation is meant so that, one week before elections, the police will come out with some explosive announcement," added Liberman, who said the investigation was deliberately opened right before elections in order to hurt his party.
(Arutz Sheva's North American desk is keeping you updated until the start of Shabbat in New York. The time posted automatically on all Arutz Sheva articles, however, is Israeli time.)