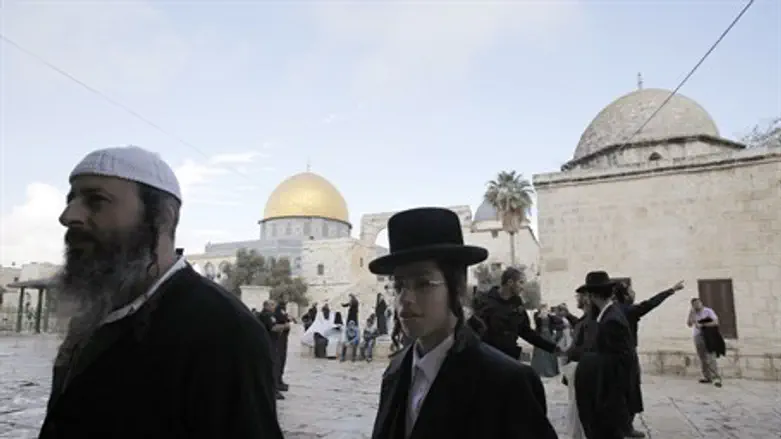 Jews on Temple Mount (file)
Reuters
As Jewish visitors ascended the Temple Mount, the holiest site in Judaism, for the new month of Adar on Thursday, they were met by the now-routine heckling by Muslims along with a new low: one Jew was assaulted by a member of the Jordanian Waqf (Islamic trust) that has de facto control over the site.
During the visit by members of the "Returning to the Mount" movement, the Waqf guard kicked and punched the Jew after he didn't comply with a demand to rush through his visit and leave the holy site.
The movement claims police officers who accompanied the group were witnesses to the assault, and yet the Waqf member was not arrested. Video from the shocking incident (filmed sideways) can be seen here:
Rafael Morris of the movement said "violence by Waqf members against Jewish visitors is a red line for us."
"An American police officer who comes to Israel has no authority and if he struck an Israeli citizen next to officers and in front of cameras he would be arrested, and he certainly would have an indictment submitted against him," remarked Morris.
"Yet members of the Waqf sense the powerlessness of the police on the Temple Mount very well, and take advantage of it to use authorities they don't have," he said.
Making a call for action, Morris added "the time has come for the Israel police to regain their composure, and fast. If the management of the police continues like this, we'll reach a situation in which we will need to defend the Jewish visitors and the officers who accompany the groups."
In recent months there has been growing tension at the Temple Mount, with Arab assailants constantly rioting to close the site to Jewish access and Arab nations pressuring Israel. In response, Prime Minister Binyamin Netanyahu declared his desire to preserve the discriminatory "status quo" at the site under Waqf rule.
Under the Waqf, Jews are forbidden from praying; Netanyahu emphasized that Jews would still be allowed to visit their holiest site, but that the discriminatory ban on Jewish prayer would remain.
Aside from now assaulting Jewish visitors, the Waqf has in the past repeatedly destroyed ancient Jewish artifacts in an attempt to erase the Jewish nature of the site of the First and Second Temple.