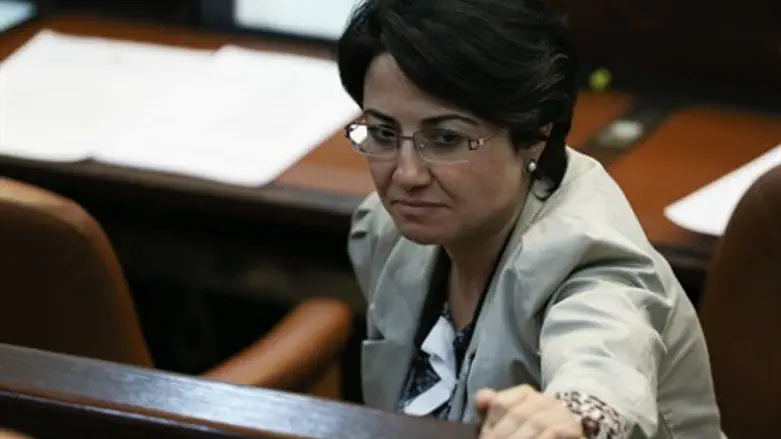 Hanin Zoabi
Flash 90
MKs on the right slammed the High Court for allowing United Arab List MK Hanin Zoabi to run for the Knesset in the upcoming elections, overturning a decision by the Central Elections Committee to ban her and Otzma Yehudit candidate Baruch Marzel, who was also reinstated as a candidate.
MK Yariv Levin (Likud) said that the decision showed the "absolute disconnect between the radical leftist elites who run the court system with the basic realities of life in Israel."
As an advocate of terrorists, Levin said, Zoabi had no place in an Israeli election – and if the court could not understand that, the judges that make it up had no place on the bench. "It's time to change the way we choose judges, so that those sitting on the court will be committed to the state of Israel and the Zionist ideal," said Levin.
Backing up Levin was MK Miri Regev (Likud), who said that "the High Court is enabling and encouraging anti-state incitement. There is no doubt that we need legislation to ban Zoabi and her ilk. It's unfortunate that the court allows such 'Trojan Horses' as Zoabi and her friends to be members of the Knesset."
MK Danny Danon (Likud) also weighed in on the matter, saying that the decision to allow Zoabi to run is a "repeat of the Azmi Bishara incident," referring to the former Arab MK who, wanted for spying on Israel for Lebanon, fled the country. "The Knesset tried to ban Bishara from running in the past and the court allowed him to, just as it today allowed Zoabi to run. She is leading the anti-Israel incitement in the Arab sector and she cannot be allowed to remain in the Knesset. I will continue to work on legislation that will ban her and other enemies of Israel."
The Likud MKs did not have much to say about Marzel, but his Yachad-Ha'am Itanu party-mates Yoni Chetboun and Eli Yishai both expressed joy and satisfaction at the decision about his candidacy.
Chetboun called the decision to allow Marzel to run "a great act of justice. Every opinion has a place in Israel's parliament, as long as it recognizes the State of Israel and respects its independence" - unlike Zoabi, who's participation in the election he called "a tragedy for the ages."
Yishai said that he was very happy that Marzel would be running on his Yachad ticket. "Over the past several weeks I have gotten to know Baruch and have realized the quality of his personality. As his name indicates, his presence in the Knesset will be a blessing for Israelis. I am very happy that he will be joining us, and together we will do great things."