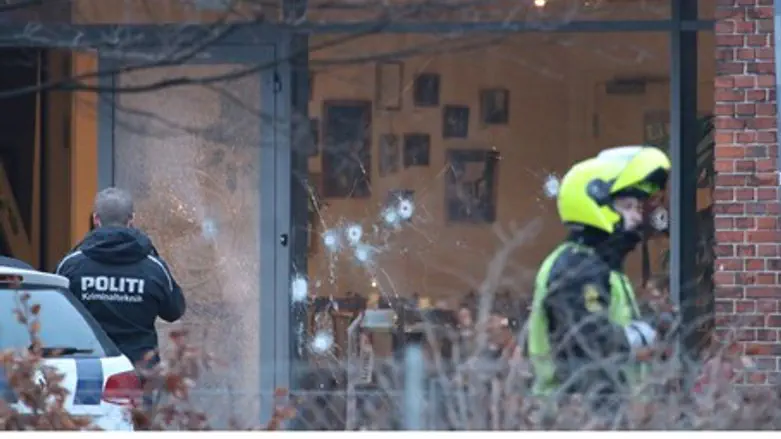 Site of Copenhagen cafe shooting, 14 Feb 2015
Reuters
Some 50 people, many of them children, were hidden inside the synagogue in Copenhagen that was shot at Saturday afternoon. They were guests at a Bat-Mitzvah that was taking place in the synagogue at the time, and when they heard shots they ran for cover in the basement of the building.
Speaking to the NRG Hebrew language news site, Eva Blum, a Jewish journalist who lives in Copenhagen, said that many of those who took shelter in the basement of the community center/synagogue were children – and that many of them remained where they were for hours after the shooting, far into Saturday night.
"We were at a Bat Mitzvah, and all of the sudden someone shouted out that the dancing and singing should stop and that we should all go down to the basement," she said. "First we were in one room together, and then some of us moved into a second, more secure room. We realized something bad had happened, and we stayed where we were, even though it was very hot.
"We had no idea what was happening," she said. "The father of the Bat-Mitzvah girl heard the police and security guards speaking and found out the story. He only told the adults that one of the guards had been shot. We did not tell the children the details, only that there had been an attack and that we were protected."
The victim in the shooting was named as Dan Ozan, 37. The shooting came after an earlier one at a café in the city where a "Blasphemy Conference" conducted by Mohammed cartoonist Lars Vilks was taking place. Police shot and killed the lone gunman they said was responsible for both shootings.