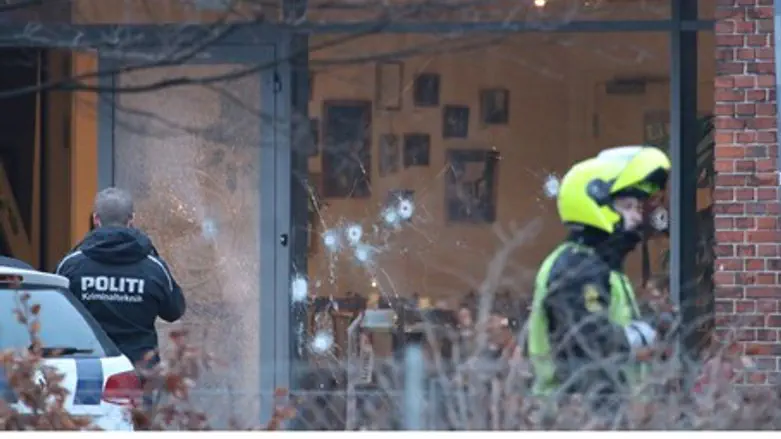 Site of earlier Copenhagen shooting
Reuters
One person was killed and two police officers were wounded in an attack near a synagogue in central Copenhagen on Saturday night, according to Reuters.
According to The Guardian, the victim who died was a 55-year-old who was shot in the head and later died of his injuries.
Local police have said that the two officers are "out of danger".
Danish police said that it was too early to say whether the incident was connected to an earlier one at a cafe in the city.
"We cannot say anything about the condition of the injured yet," Copenhagen police was quoted by AFP as having said.
"The perpetrator fled on foot," it said.
AFP noted that the shooting took place in Krystalgade, a street that is home to Copenhagen's main synagogue, but it remains unclear whether the synagogue itself was the target of the attack.
Danish television station TV2 said a large metro and train station nearby, Norreport, was being evacuated.
In Saturday's earlier shooting incident, shots were fired at a Copenhagen cafe, during an event for free speech featuring a speaker who has faced multiple threats for drawing cartoons of the Muslim prophet Mohammed. 
One person, a 40 year-old civilian, was killed in the attack, and three police officers were injured. 
Police estimated that over 200 bullets were fired at the cafe.
Two terrorists are estimated to be behind the attack; both are still at large. An eyewitness stated that at least one was masked during the shooting and that they have appeared to have escaped by car; police identified the vehicle as a black Volkswagen Polo.
The event, entitled "Art, blasphemy and the freedom of expression," was organized by Swedish artist Lars Vilks - who drew the infamous cartoons, depicting Mohammed as a dog, in 2007.
The cartoons received much criticism, as well as threats from the Muslim community in Sweden and abroad.
Vilks, 68, was present when the shots were fired, but not injured.