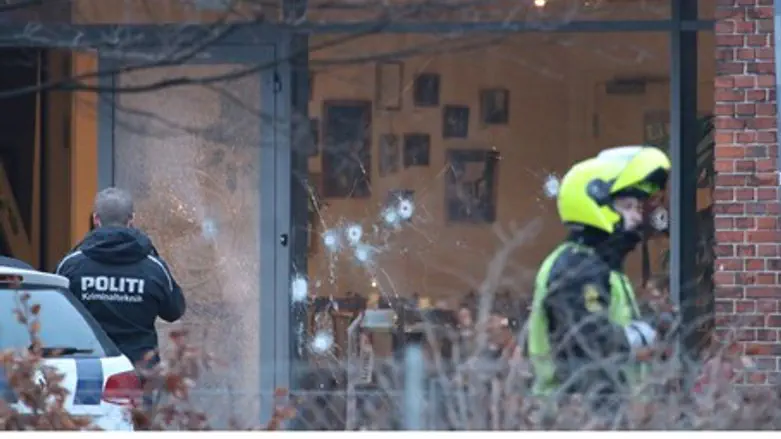 Site of Copenhagen cafe shooting, 14 Feb 2015
Reuters
Shots have been fired at a Copenhagen cafe', Danish media reports Saturday night, during an event for free speech featuring a speaker who has faced multiple threats for drawing cartoons of the Muslim prophet Mohammed.  
One person, a 40 year-old civilian, was killed during the attack, which took place just before 4:00 p.m. local time Saturday. 
Three people are estimated to have been injured, and all are apparently uniformed police officers, according to the Daily Mail.  
Police estimate that over 200 bullets were fired at the cafe.
Two terrorists are estimated to be behind the attack; both are still at large. An eyewitness stated that at least one was masked during the shooting and that they have appeared to have escaped by car; police identified the vehicle as a black Volkswagen Polo. 
The event, entitled "Art, blasphemy and the freedom of expression," was organized by Swedish artist Lars Vilks - who drew the infamous cartoons, depicting Mohammed as a dog, in 2007.
The cartoons received much criticism, as well as threats from the Muslim community in Sweden and abroad. 
Vilks, 68, was present when the shots were fired, but not injured, according to the Associated Press.
The event included several other controversial speakers as well, including French campaigner Inna Shevchenko, leader of Ukrainian feminist group FEMEN and infamous for staging nude protests at churches and mosques. 
French ambassador to Denmark Francois Zimeray was also present during the attack, but escaped unharmed.
Soon after the attack, he posted a dramatic message on his official Twitter account, stating: "Still alive in the room."
He drew similarities between the shooting and the January terror rampage at the French Charlie Hebdo magazine offices in remarks to AFP following the ordeal. 
"It was the same intention as (the January 7 attack on) Charlie Hebdo except they didn't manage to get in," he opined. "Intuitively I would say there were at least 50 gunshots, and the police here are saying 200." 
Several hours after the attack, Denmark's PET security service has confirmed that initial investigations "indicate that we are talking about a terror attack."
Danish prime minister Helle Thorning-Schmidt agreed, according to the Telegraph, telling reporters, "We feel certain now that it's a politically motivated attack, and thereby it is a terrorist attack.
"We take this situation extremely seriously. We are in a high alarm all over the country, and our main priority at this stage is to catch the perpetrators and make sure that we find them as soon as possible."
Police have, meanwhile, released a description of one the attackers, as well. 
He is described as a 25-30 year-old male, about 1.85 meters tall, with an 'Arabic appearance but with lighter skin than normal' and an 'athletic build.' The man had black hair, was wearing a black or navy parka and pants, and may have been wearing gloves. He had covered most of his face with a 'guerilla scarf' in yellow/orange and red, they added. 
The attacker was also carrying a machine gun, police said, 'completely black and plastic-looking.'