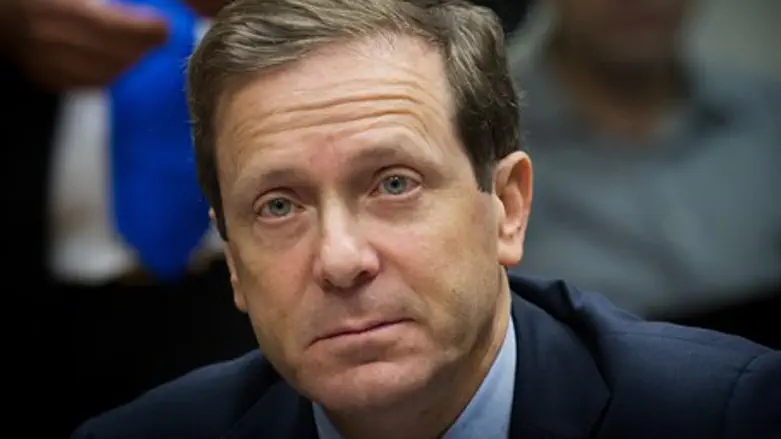 Yitzhak Herzog has a gay problem?
Miriam Alster/Flash 90
Conflict between leaders of the Labor party's Arab sector and Labor Chairman Yitzhak Herzog over the name "The Zionist Camp" remains tense. 
As a result, there is almost no involvement by representatives of the Arab sector in Labor-Hatnua's election campaign. 
Recently, a group of Arab leaders met with Herzog and demanded that he give up the name. According to their representatives, Israeli Arabs cannot and do not wish to identify as being part of a "Zionist camp."
A senior Arab leader said Sunday morning that as long as the crisis remains unresolved, the Arab community will avoid contact with and involvement in the election campaign. 
"This crisis has been made clear and is known to Herzog and other leaders of the party. As long as Herzog lets it continue and does not try to find a solution, we are on the outside," the official pointedly noted. 
"At this point, it is the Arab district's decision not to take part in the elections or participate in any activity until the crisis between our community and the party chairman is resolved," he continued. 
"This is a real crisis. We demand an answer to our questions. We are talking about a crisis of fundamental issues." 
According to the official, the crux of the contention between Herzog and the Arab sector is not only the party defining itself under a Zionist banner, but also the way Arab representatives are treated in the party's Knesset list.
Only one Israeli Arab is in a realistic spot on Labor's Knesset list - former sportscaster Zohir Bahalul in the 17th spot. 
"The crisis is being handled in negotiations between Arab district headquarters and the Chairman's associates. Until [it is resolved] we are not taking part in the campaign and we are taking any responsibility [for the situation]," the official stated.
Two weeks ago, Arab leaders held a highly charged meeting with Herzog in which they demanded he publicly announce "The Zionist Camp" name is intended for election purposes only and will be nullified following the elections on March 17. 
Participants of the meeting, however, refused to say what had happened during the meeting and if Herzog had agreed to the Arab sector's demands. 
Arab Labor leaders also recently stated that since Herzog had refused to accept their demands, they would not vote for Labor and consider an alternative party, or simply avoid going to the polls altogether.