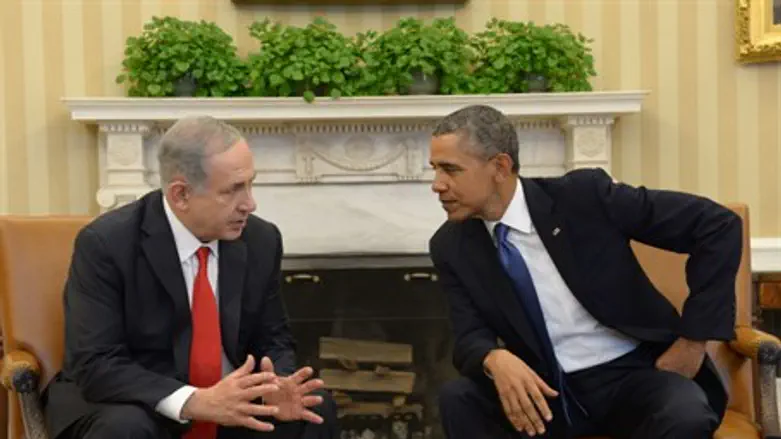 Netanyahu, Obama in the Oval Office (file)
Flash 90
Despite recent tensions between Israel and the United States surrounding Prime Minister Binyamin Netanyahu's speech to Congress, i24news reported on Tuesday that a senior White House advisor is expected to arrive in Israel for a visit later this month.
Philip Gordon, who has been serving for the past two years as a special assistant to the President and as White House coordinator for the Middle East, North Africa and the Gulf, will arrive in Israel on February 15 and meet with senior Israeli and Palestinian officials, the network reported.
His talks are expected to focus on the status of negotiations between Iran and world powers on the Iranian nuclear program, as well as such topics as the Palestinian Authority's diplomatic offensive against Israel and its accession to the International Criminal Court.
Gordon's planned trip comes just two weeks before Netanyahu's controversial address to a joint session of Congress on March 3, and one month before Israel's elections, noted i24news.
Alistair Baskey, Deputy Spokesperson for the White House's National Security Council, confirmed Gordon's trip and said he would be addressing the Institute for National Security Studies (INSS) annual conference in Tel Aviv.
"Gordon will also meet with senior Israeli and Palestinian officials in Jerusalem and Ramallah during his visit, as part of our regular, ongoing engagement on a range of bilateral and regional security issues", Baskey told i24news.
The already tense relations between Netanyahu and President Barack Obama have recently been tested again over the speech to Congress.
House Speaker John Boehner raised eyebrows two weeks ago when he announced that Netanyahu had accepted his invitation to address a rare joint session of Congress – an invitation extended without consulting Democratic leaders in Congress or the White House.
Boehner defended the action, saying Congress has every right, as a separate branch of government, to operate without the administration's input.
The White House originally gave an icy response to news that Netanyahu was invited to address Congress, saying it was a departure from diplomatic protocol. It later made clear that neither Obama nor Secretary of State John Kerry would meet Netanyahu while he is in Washington, explaining that American policy is not to meet foreign leaders on dates that are close to national elections in their countries.
Republicans, however, have supported the speech, including former New York City Mayor Rudy Giuliani, who said on Sunday he had no idea why the invitation to Netanyahu "has become such a fuss".
The former mayor noted that Netanyahu has addressed Congress before and added that it makes sense for him to do so again now, when Congress is discussing a possible deal with Iran over its nuclear program.